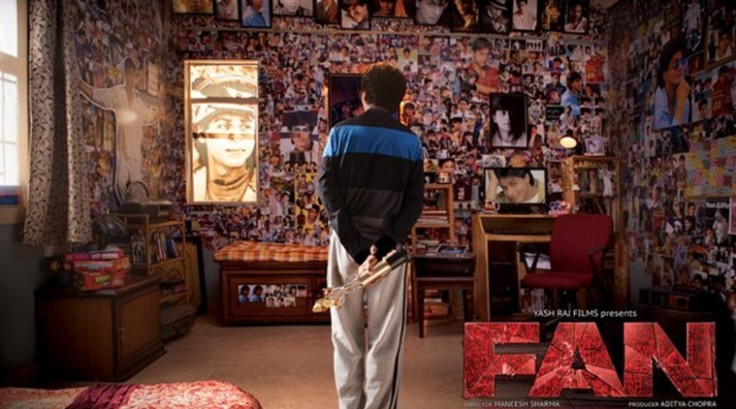 The countdown is on to Shah Rukh Khan's next release FAN. The actor, who has been absent from Twitter since the end of 2015, sparked excitement on social media when he posted five teaser videos from the YRF movie, about a fan's obsession with the world's biggest movie star.
The videos intersperse footage from Khan's life and career, with insights from his own fans who explain the impact of the star on their lives as they tell their own fan stories, revealing the extent of their adoration and obsession for the Bollywood actor.
The stories of ordinary people, whose lives have been transformed by their heroes, include accounts of a Charlie Chaplin fan, an ardent Sachin Tendulkar fan, a young man who defends his hero Michael Jackson and a collector of Amitabh Bachchan poster art, whose passion for the actor led him to becoming a film historian and ultimately to meeting his idol.
The second video in the series focuses on the actor's biggest fan club SRKUniverse, that was launched not in India, but in the Maldives by founder and Shah Rukh Khan super fan Muhammad Ashraf. "I am a big Shah Rukh Khan fan. I will go to any level. I will do anything for him," he explains.
With 30 branches of the fan club worldwide, 365,000 followers on Twitter and 1.7 million likes on Facebook, Ashraf explains that SRK Universe runs with military precision, operating like a global organisation which brings together fans of the superstar from around the world.
And on the occasion of the actor's 50th birthday, the actors most ardent fans, who hail from all over the world including Germany, Italy, France and Turkey, were rewarded for their dedication with a party in celebration of Khan and a chance to come face-to-face with their idol.
"He hugged me. I'm happy. I'm still shaking," says a super fan.
Vishal Singh is without question the biggest Shah Rukh Khan fan in Lucknow. Changing his name to Vishah Rukh Khan he explains his love for the actor. "Shah Rukh Khan – he is my star. He is my life, I am his fan."
Driving a pimped up car emblazoned with images of Khan from his movies, he explains how his passion for Shah Rukh helped him find love in his life and a wife who is equally obsessed with the star. Emulating his idol's dress, style and even his family, they named their own son after the actor's eldest child Aryan. Every inch of the family home is adorned with images of the superstar and Shah Rukh's face is even included amongst the idols in his temple.
"As long as I live I will keep saying his name, Shah Rukh Khan, Shah Rukh Khan, Shah Rukh Khan," he says.
In Kerala, twin brothers Sajeeb Rehman and Mujeeb Rehman have been spreading the word about the actor across Southern Indian. "We Malayali people love three things, our tea, our food and our superstar," they explain.
The fans describe how the actor, by his own example and acts of philanthropy has motivated them to better the lives of those around them. "We are inspired by Shah Rukh and we want to be like him. He makes people laugh. He brings them happiness and we thought we should bring happiness to people just like he does."
As a result they take out time from their daily lives to provide comfort, care and support for people suffering from terminal cancer and afflicted by leprosy. They give credit to Shah Rukh Khan for their good deeds. "As big a star he is, his heart is even bigger," they say.
As the film attempts to uncover the heart of the fan, it asks the question: "Is this love or madness? Is it wilfulness or a heart that's alive? Is it childishness or a reason for living?"
For Muhammad Ashraf, his passion for the superstar culminated in a meeting with his idol after 20 years, and as he explains, it was worth the wait. Rendered near speechless by a lifelong dream fulfilled, he says: "I can't express. After 20 years I finally met Mr Shah Rukh Khan. I am really very happy. I owe my life to him. I don't know why I have this connection. I love Shah Rukh Khan."
When asked to explain their passion, that has in some cases, taken over every aspect of their lives, the fans explain to those who question their idol worship: "Once a fan always a fan. Its junoon. Passion. Tu nahin samjhoge. You won't understand."
Fan releases on 15 April 2016.