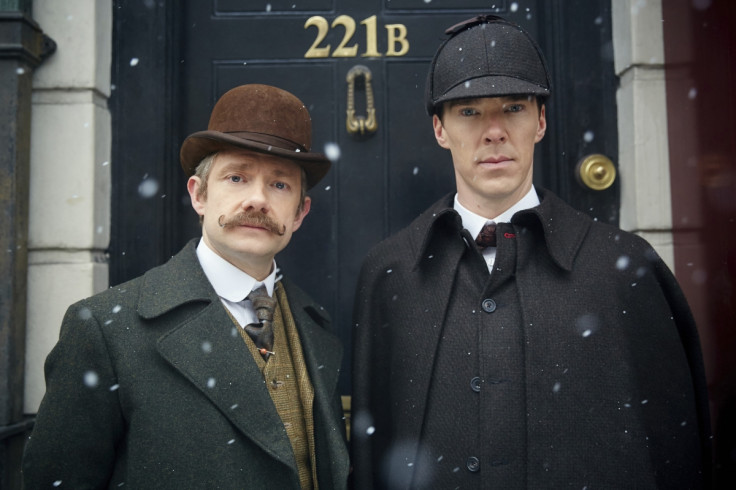 Our favourite crime solving detectives are back with a new mystery to solve. Actor Benedict Cumberbatch will reprise his role as Sherlock Holmes and Martin Freeman will return as his companion John Watson in the BBC series Sherlock: The Abominable Bride.
The special episode will debut on 1 January 2016 on BBC One in the UK, PBS Masterpiece in the US, and select cinemas around the world. The 90-minute special will air at 9pm ET on PBS, and you can watch it online on PBS's official website by clicking here (in the US).
Fans will also have the opportunity to see Sherlock: The Abominable Bride in special theatre screenings. Tickets can be purchased from Fathom Events.
The official synopsis for the special episode reads as follows:
Sherlock co-creator Steven Moffat teases the inspiration behind doing a Victorian-era Sherlock special. Moffat told Yahoo TV: "It was when we were shooting the little mini prequel, "Many Happy Returns," for Season 3. [Co-creator] Mark [Gatiss] was directing second unit on it, and I was hanging out with Mark. And that's when we started talking about it. I can remember the actual day, when we shot the monks with all the candles. We were just like, "Hey, we could just do it.""
Sherlock producer Sue Vertue also dished about getting the costume and wallpapers apt for a Victorian setting. Vertue said, "It was trying to find the equivalent of our wallpaper in Victorian wallpaper. And they had great fun, didn't they? Kind of getting the alternatives of what we had on the walls. So it still looks very much our show, but in the Victorian era. We did shoot in London, and quite a lot in Bristol. And it's hard. The clip that you saw, it takes six weeks to close a road down now."