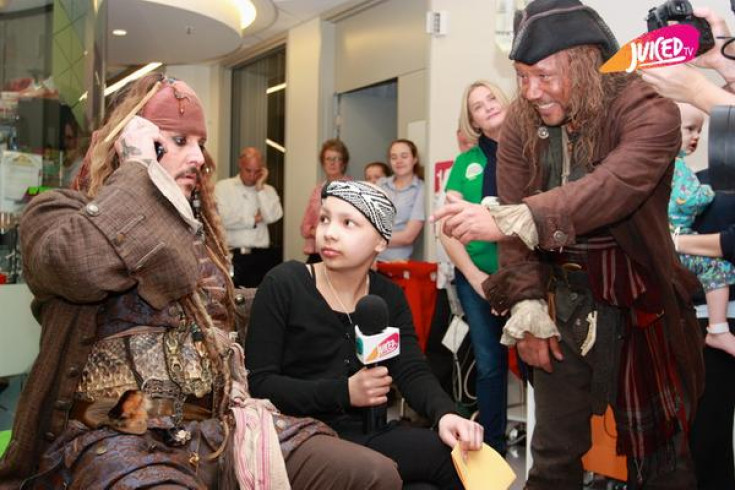 Captain Jack Sparrow is well known for his dastardly pirate ways, but he revealed his softer side when he dropped in on a children's hospital to spread some pirate cheer.
Johnny Depp, who plays the swashbuckling character in the Pirates of the Caribbean franchise, is in Australia filming the fifth instalment. Taking a break from filming, the actor stayed in character to surprise some of the sick children the Lady Cliento Children's Hospital.
Arriving on a helicopter, the big-hearted Hollywood star happily posed for selfies with the young fans who couldn't contain their excitement at seeing him appear before them in all the garb of the notorious screen scallywag.
The 50-year-old, who was accompanied by his fellow pirate Scrum, played by British actor Stephen Graham, even starred in Juiced TV, a show made by and for the children in the hospital.
Following the visit, the hospital posted a Facebook message of appreciation writing: "Two very famous pirates made a special surprise visit to the Lady Cilento Children's Hospital last night... Dressed in full costume, both Johnny Depp as Captain Jack Sparrow and Stephen Graham as Scrum spent over three hours making a real difference to sick kids and their families in hospital!"
Dead Men Tell No Tales is the fifth instalment in the Pirates series and the largest production ever to be made in the country.
While Depp was on this occasion making headlines for good reason, his stay in Australia has not been without controversy.
In May, he fell foul of Australian authorities after failing to notify officials he brought his pet dogs Pistol and Boo into the country
The star could yet face a possible 10-year jail sentence in Australia or a fine of AU$340,000 (£170,000) for smuggling his two pet dogs into the country and breaking stringent quarantine regulations.
Later, the country's agriculture minister Barnaby Joyce warned Depp to send the pair home to be quarantined or face having them euthanised.