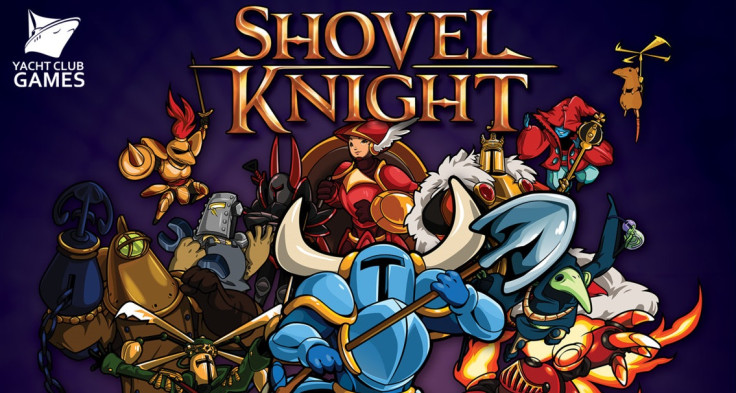 Yacht Club Games has announced that popular retro-style platformer Shovel Knight will be coming Nintendo Switch with a slew of new features. No release date was specified, but the developer confirmed the original game and upcoming Specter of Torment expansion will be released on the new console.
Announced in a blog post on Wednesday (11 January), the developer revealed that the 2D side-scroller will be renamed Shovel Knight: Treasure Trove and include new single player and other modes.
"Soon, the game you now know as Shovel Knight will become Shovel Knight: Treasure Trove. When that happens, you'll also have new options to purchase each campaign as separate, standalone games on PlayStation 4, Xbox One, PC/Mac/Linux, and Nintendo Switch."
These campaigns are Shove of Hope (a new name for the original game), Plague of Shadows, Specter of Torment and King Knight's Campaign - all of which will be available separately as well as packaged together in Treasure Trove.
Following requests from fans, the local two player co-op mode in Shovel Knight, which was previously exclusive to Wii U users with Shovel Knight amiibos, will be making its way to PS4, Xbox One and PC as a free update.
An additional Body Swap mode, which allows players to tweak the look of playable characters, will be added for free too, and will be launched with the Specter of Torment expansion later this year.
In addition to the game's expansive Specter of Torment campaign, the developer will also release a brand new campaign starring King Knight and a four-player multiplayer Battle Mode this year as well.
"We want to keep our promise of releasing free content for all players," the developer explained in an FAQ. "We also want to continue building these campaigns and features to be the best! Somewhere along the way, the game has simply gotten too big!
"It's difficult for many players out there to find everything or even know that these campaigns exist. We believe that providing standalone versions will provide better entry points for different types of players and allow more people to continue enjoying each adventure on their next favourite platform."
Existing owners of the game on PC, PS4 or Xbox One will automatically get Shovel Knight: Treasure Trove and continue to get each of the planned free campaigns and features through future updates.