Simon Cowell reveals naked David Walliams lap dance as Britain's Got Talent 'bromance' blossoms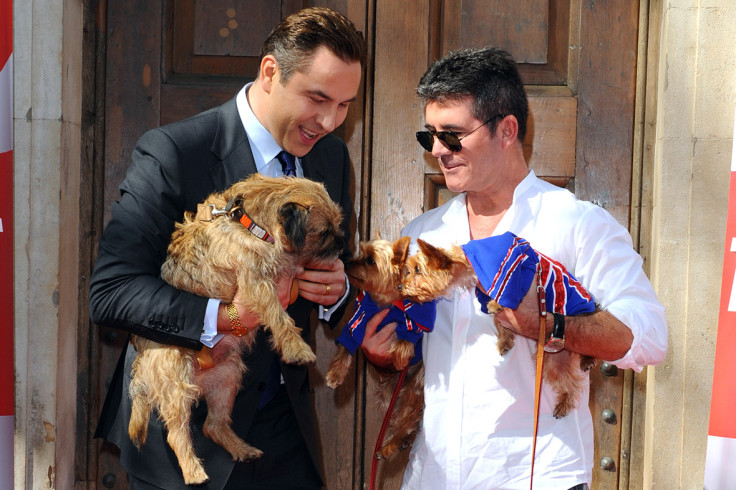 KEY POINTS
The pair spoke playfully ahead of Britain's Got Talent 2017, which hits screens on Saturday 15 April.
Alesha Dixon and Amanda Holden are again set to join Walliams and Cowell as judges.
Britain's Got Talent 2017 will see the 'bromance' between founding judge Simon Cowell and panellist David Walliams reach new heights, it has been revealed.
Speaking ahead of the new series, launching Saturday (15 April) on ITV, judge Amanda Holden admitted the duo's relationship has "blossomed" and that they had been "wrestling each other to the floor".
Comedian and author Walliams even gave the music mogul a lap dance and dropped his pants in front of him during an audition.
Speaking about the incident, Cowell, who tipped the Missing People's Choir as potential winners of this year's series, said: "Thank God I had my eyes shut for that! He did a lap dance on the desk, thank God I didn't see… bit or I would be in therapy right now! That's David though, it's what he does."
In a playful assessment of their relationship, he added: "I've just got to the point now, genuinely, where it's like having your auntie's dog, who's getting on a bit, around you. You go round for tea and the dog starts humping your leg. The first couple of years it's like, 'Can you please not hump my leg?', after the third or fourth you're like, 'Just get it over with,' and that's kind of how I feel about David right now."
Walliams meanwhile made light of the pair's rivalry and jealousy after hosts Ant and Dec received OBE's for services to broadcasting and entertainment in Queen's New Year's Honours.
Addressing the prospect of Cowell receiving a knighthood, the 45-year-old said: "Simon definitely thinks he should have a knighthood! I don't know why, I don't know what he thinks he's done! Maybe by just being famous for long enough.
"What he doesn't realise is you have to do something positive, you can't just spread evil and think that you'll get one! So I think he's a bit peeved about it. I think he thinks he was going to get one at one stage. Who knows, though it would be annoying to have to call him Sir Simon, I wouldn't like that, so I really hope it doesn't happen."
The pair have now worked together on the show for five years and seen much change in their personal lives in that time.
Walliams married model Lara Stone in 2015, but the couple, who share son Alfred, 3, divorced last year after five years of marriage.
Cowell, meanwhile, previously known for his bachelor ways, has finally settled down after New York socialite Lauren Silverman, 39, gave birth to son Eric in 2014.
News of the pregnancy sparked controversy after it emerged that Silverman had engaged in an affair with Cowell, 57, while married to his friend, real-estate mogul, Andrew.
The property developer soon filed for divorce, and Silverman and Cowell remain together.
© Copyright IBTimes 2023. All rights reserved.