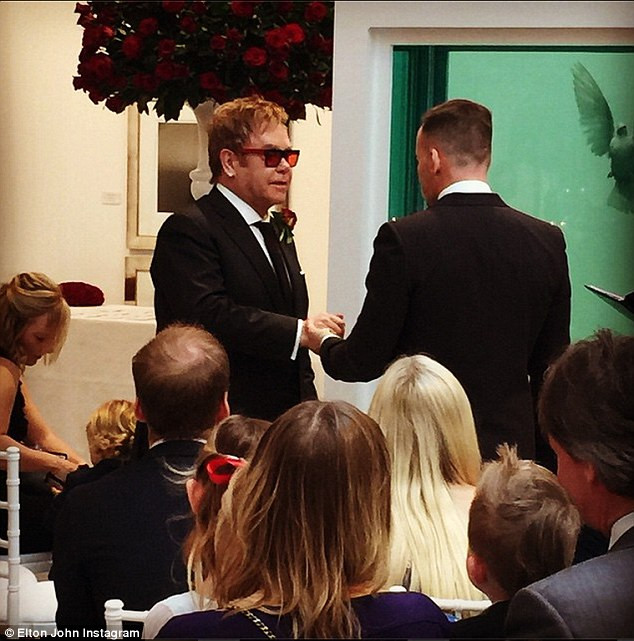 Singer Elton John and his long-term partner of 21 years, David Furnish, formally converted their civil partnership into a marriage today.
The couple hosted a ceremony at their Windsor estate with many celebrities in attendance including David and Victoria Beckham, Ed Sheeran, Elizabeth Hurley, Ozzy and Sharron Osbourne, and David Walliams.
They invited 50 of their most intimate friends, with a source telling the Mail Online: "Only close friends and family are invited – it's going to be a small, intimate do."
Vows were initially exchanged at the Windsor Guildhall, the same venue where the Prince of Wales and Camilla Parker Bowles married in April 2005. The musician then documented the ceremony on his Instagram website.
John and Furnish have two sons, Zachary and Elijah, who attended the ceremony.
Images were posted on Instagram of the newlyweds holding hands with the caption: "Zachary grabs David's iPhone and takes a photo of his brother while we exchange our vows."
The Beckham's eldest son Brooklyn wrote: "Amazing day with family and special friends congratulations Uncle Elton and Uncle David #ShareTheLove."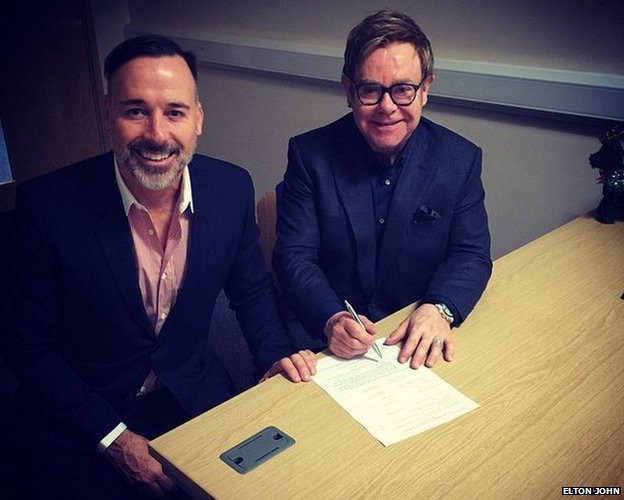 The teenager also posted photograph's of the wedding lunch menu, which included wild mushroom soup with truffle cream, beef short rib and caramelised onion pie and warm chocolate pudding with ice cream.
John, 67, and Furnish, 52, entered a civil partnership on December 21, 2005, and picked the same date this year to officially wed on their ninth anniversary.
"I'm very proud of Britain and the laws that we've seen come into existence since we've been together," Sir John told US TV network NBC in March.
"Having our civil partnership was an incredible breakthrough for people that have campaigned for a long time.
"Through the 1960s and the 1950s in England when it was so hard to be gay and hard to be open about it. And it was a criminal act.
"So for this legislation (gay marriage) to come through is joyous, and we should celebrate it. We shouldn't just say, 'Oh, well we have a civil partnership. We're not going to bother to get married.' We will get married."
They are one of a number of celebrities to take advantage of new laws which came into force earlier this month and allowed gay couples to convert their civil partnerships into marriages.
Mary Portas and Sandi Toksvig have also married their partners.