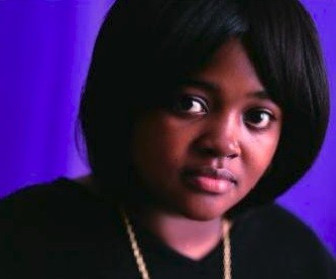 Seated in the Wholefoods café in South Kensington, I anxiously await her arrival. Sister Souljah is running late. Her PR has already sent a polite text message (and an email for good measure) to offer her sincerest apologises for the delay. I have a 10-minute wait, I'm told.
While I anticipate her pending arrival, I give my questions the once-over for what feels like the 100th time and take yet another calculated sip from the fruit smoothie I've just purchased to a) energise me and to b) prevent me from being accused of loitering.
Almost 20 years after venturing into hip-hop, the MC, social activist and renowned author is still a household name. That's if, of course, your house is occupied by politically aware 20somethings and those who were directly or indirectly affected by the "Sister Souljah moment".
The star, born Lisa Williamson, burst on to the political scene when her comments about black-on-white violence during the LA riots were attacked by candidate Bill Clinton during the 1992 US presidential election.
Years after that controversy, she resurfaced as a bestselling author and gave fans of urban fiction The Coldest Winter Ever, a coming-of-age story about Winter, the rebellious, pampered teenage daughter of drug dealer Ricky Santiaga. The book has sold over one million copies worldwide.
Almost 15 years on, she has unveiled the long-awaited sequel, A Deeper Love Inside. This novel, which went straight into the US bestseller list on release, tells the story in the words of Porsche Santiaga, Winter's younger sister.
Much has been made of Souljah's controversial views and boisterous persona in the past, so I'm a little ambivalent about our sitdown. Will I be meeting the author, the social activist or the hip-hop star?
One thing I do know is that behind the name there is a woman with an admirable work ethic, a great gift for storytelling and an impressive level of self-awareness.
Why did you wait so long to release A Deeper Love Inside considering the success of The Coldest Winter?
I wrote two Midnight books in between [Midnight: A Gangster Love Story and Midnight and the Meaning of Love]. It was seen as a gap-filler for people who were expecting a certain thing. I thought that the Midnight series were very important. The condition of our sons, our husbands, our fathers, our men needed to be addressed in today's literature and in way that [black people] could identify. Itt was very important to bring that African male voice in the first narrative to the forefront.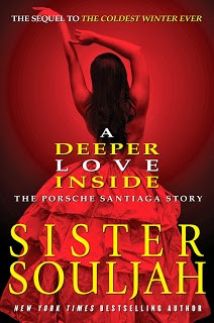 What can readers expect from A Deeper Love Inside?
Porsche is different. She is a powerhouse, she is raw, she is rough, she is a dancer and at the same time she is very soft and eloquent on the inside and her heart is pure as gold. What you can expect is a raw and rugged ride, but a very enjoyable story.
The characters in both books seem so real. Are they based on your own experiences or people you grew up with?
Absolutely not. This is literature. If you don't spend your whole life watching television then you will be able to create great stories.
If you are someone who is consumed by the media and today's society then the only thing that you are going to write is a duplication of what has already been seen. When I wrote a story I wanted it to be unique and unpredictable and enjoyable on many different levels.
Any plans to adapt The Coldest Winter or A Deeper Love Inside for the big screen?
We [Souljah and Jayda Smith] did a deal through HBO and went through the process of signing all the contracts and at the end of the process HBO decided not to make the film. This year is the first year that I have found a film team I want to work with. It's looking like an independent production. It is not easy to do a film and what people don't understand is that you have to be smart in this business and be a good businesswoman. This movie could have been made 15 years ago if was a dummy and gave it to somebody and let them run with it.
Which actors do you see playing the characters in the film?
My writing is fresh, neat, and strong so the characters should be the same. As long as I'm one of the producers, or possibly co-director, it will be a fresh face [to play Midnight]. The whole cast won't be newcomers, just the franchise characters like Midnight and Winter. We will probably use veterans for Mr and Mrs Santiago. I see it being a franchise.
Your good friend Will Smith hosted your launch for A Deeper Love Inside in Philadelphia. Has he imparted any word of wisdom on going into movie- making?
Will is a creative person and great comedian. He is very smart and very well informed, a pleasure. He is someone I can ask questions to and he gives me answers with facts and data. He will say, 'Souljah this is the way that you want it, but this is the way that it normally is'. Will is a $100m film budget person; I'm not that person. I'm talking $10-$15m for the production of The Coldest Winter Ever.

The Coldest Winter Ever ended with Winter going to prison. Do you have any plans to go back and focus on Winter entirely and write another book picking up her story?
It is a possibility. The real question is if I'm going to do Winter as the main voice in another novel. I don't know. She will always be in the story as all the characters are connected. It has to be something that sparks my interest, intrigues me and challenges me.
Do you think that your books capture the reality of what is going on in American neighbourhoods every day?
I have never heard anybody say that The Coldest Winter is not realistic. If you come from these neighbourhoods you would never say that. People that come from these neighbourhoods say 'I love this book, this book is my Bible.' Even if you are in a poor neighbourhood in Brazil. The City of God and all these other stories came after The Coldest Winter. People are lucky that they can get a front row seat and experience it if they didn't experience it in real life.
Fans of your books may not be aware that you became embroiled in a controversy with Bill Clinton in the 90s because of the Rodney King beating. That incident led to the phrase 'a Sister Souljah Moment'. How do you feel about the phrase still being used in politics?
When people encounter something unusual they can't forget it. In the 90s when I was on television, people were not used to a young person who was intelligent and well-versed on the issues, who was unafraid and forthright. All these things were unusual to America so theyremember them. It was usual for somebody to come out and clearly say 'My community feels like this' and 'We don't like what the white community is doing'.
Bodies jerked. They couldn't believe it. My purpose was to shed light on what was going on to give the raw emotional. Why? Because I'm human. If you want to hurt people and expect them not to have a reaction that means that you don't believe that they are human. I want to bring that to the forefront and make people who are unjust, who are oppressive and racist responsible.
As an activist for black rights, how did you feel when President Obama won the election?
I really was surprised that he won. It affects things on certain levels and on other levels it doesn't. It had a big impact. When Obama came along everybody, no matter what colour, needed and prayed for relief from George Bush. At that point anybody could have become president.
Do you think we have seen the end of the anti-hip-hop movement that we say in politics back in the 90s?
There is a big difference between hip-hop today and hip-hop in the 90s. Maybe there is no need for the government to be against Li'l Wayne or Nicki Minaj because they don't represent a threat. Governments sometimes treat people who are sharing information and helping the people become strong and clear as a threat.
You can find out more information about Sister Souljah on her website www.sistersouljah.com and on Twitter @SouljahBooks.