Melasma is a difficult skin condition to deal with but can be treated and the effects reversed with proper care and advice. IBTimes UK spoke to London-based cosmetic dermatologist Dr Sam Bunting to discuss how you can treat melasma and what products will help. She said: "I want to offer patients not only the opportunity for correction of skin issues but also the psychological benefits of beautification. Treating the skin from the inside out is what I do best. "
What is melasma?
Melasma (pronounced muh-LAZ-muh) is a common skin problem that causes brown to grey-brown patches on the face. This mostly occurs on the cheeks, bridge of the nose, forehead, chin and above the upper lip. It also can appear on other parts of the body that get lots of sun, such as the forearms and neck.
How is it caused?
Melasma can be a chronic condition. Research has shown the condition is much more common in women (only 10% of those with melasma are male) and its influenced by hormonal states (such as pregnancy and taking the oral contraceptive pill) and UV exposure. It can affect anyone but is more common in those with darker skin-types who live in warm climates.
How do you manage it?
The approach to managing it, according to Bunting, has to be a long-term plan and is best done with the help of a dermatologist. Bunting believes the right skincare products used on a daily basis are the best way to manage these types of problems and it is vital to understand the critical role of UV (and indeed visible) light.
Physical sunscreen needs to become part of your everyday life and it needs to be applied without question. Diligent SPF application is often something overlooked on a daily basis but is a vital part of first-line management of melasma. These days, formulations are now so advanced that there is sunscreen to suit everyone.
Bunting also notes that its vital to be wary of physical treatments when you are prone to melasma and says she has seen many women both in her practice and on the TV (TLC's Extreme Beauty Disasters) who have had treatments such as microdermabrasion inappropriately recommended, which made matters much worse. Slow and steady treatment works best.
The basic principles of treatment
Protection from sun exposure and melanin degradation is key along with applying products that contain ingredients that encourage outermost layer of the skin to exfoliate and speed up the removal of melanin from the skin. Alpha hydroxy acids and vitamin A-derivatives are extremely helpful in this way and are great for exfoliating.
However, some of the most effective treatments contain multiple ingredients, which will be effective in various ways at the same time. Melasma often requires more potent ingredients with hydroquinone (a strong inhibitor of melanin production) being used as an effective treatment for hyperpigmentation.
This remains the most frequently used treatment by physicians in discolouration conditions such as melasma. It needs to be used correctly and this is safest when under physician guidance. Bunting usually combines hydroquinone with vitamin A-derivatives such as Retin-A, which work synergistically but can cause irritation if not used appropriately.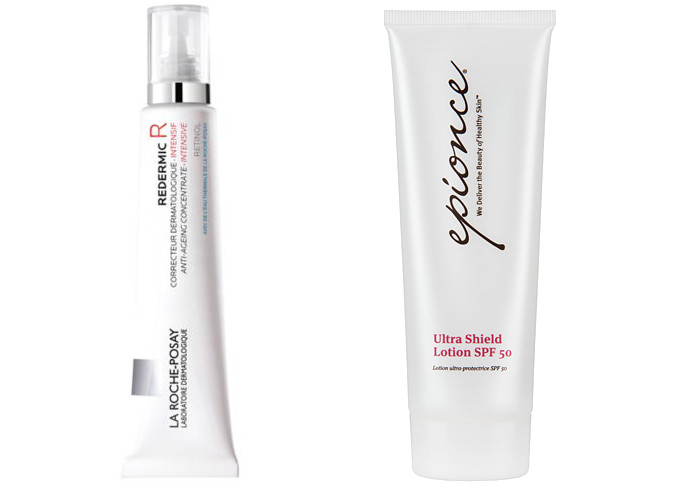 Bunting cannot stress enough that care should be intuitive and if you are tackling pigmentation of any kind, that you use sun protection. This should also vary day to day with application of a broad-spectrum of sun cream. If you an SPF 50 with five-star UVA protection, it should contain physical blockers (such as titanium dioxide or zinc oxide).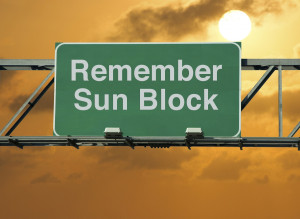 Choose sunscreen that's sweat and water-resistant and reapply properly every two hours as well as covering up with hats and clothing; in other words practise sun and light avoidance.
The final piece of advice Bunting gives is to look at what we eat. A diet rich in antioxidants such as red berries, walnuts and brewed coffee may help the treatment of melasma. Also some studies show that lycopene, found in cooked tomatoes, may also increase your level of photoprotection in addition to SPF. Topical antioxidants such as vitamin C will also help.
There is also an ingredient called P. Leucotomos, a fern extract, that has shown promise in protecting against UV-induced photo-damage and is worth considering, especially if you live somewhere sunny. Look for it in Heliocare Ultra, a fantastic sun protection brand, and a new drink called UVO, which is available in the US at the moment.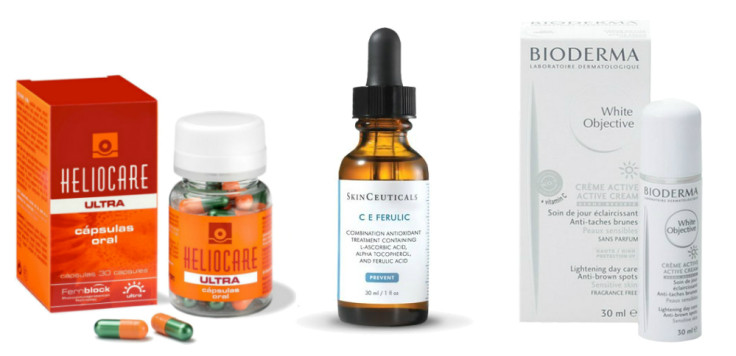 To see more from Dr Sam Bunting, head to her YouTube Channel, which is dedicated to giving skincare advice. www.drsambunting.com
(L-R) Heliocare - Ultra Oral Capsules 30, Skinceuticals - C E Ferulic® 30ml, Bioderma White Objective Lightening Cream 30ml