As a leader of political party you take a stance of placing a moratorium on shale gas exploration on your turf, express scepticism publicly about its potential and wholeheartedly agree with activists who hate fracking, yet in private do whatever you can to ensure shale gas sourced from elsewhere reverses the fortune of a local employer, generates jobs and revitalises a region. Now what does that make you? Nicola Sturgeon, First Minister of Scotland and leader of the Scottish National Party (SNP), to be exact.
Welcome to Scotland: recipient of the first UK consignment of ethane, sourced from the US Marcellus shale by chemical giant Ineos, as feedstock for its Grangemouth refinery. Ineos founder Jim Ratcliffe's logic is a simple one – get reliable, competitively priced ethane, as the North Sea supplies dwindle, to inject oomph into a struggling business.
To this effect, Ineos has pumped $2bn (£1.54bn, €1.8bn) into commissioning eight dragon-class carriers capable of shipping 27,500 cubic metres of ethane on each of their journeys from Marcus Hook in Philadelphia to Grangemouth, where Europe's biggest ethane tank would hold the cargo as feedstock for the company's operations.
The massive undertaking, which all but ensures cost-effective shale sourced ethane for Grangemouth for the foreseeable future, would see Ratcliffe's crew reverse the decline at Scotland's largest industrial site and the UK's largest petrochemical facility which was on the verge of closure three years ago.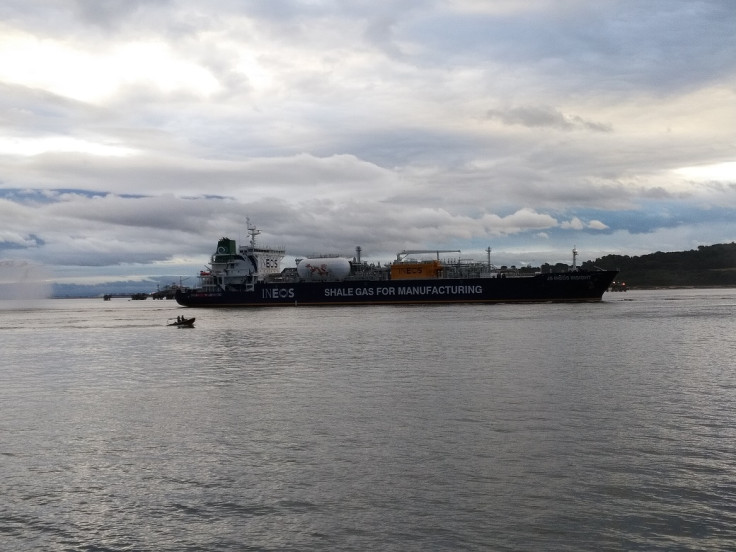 From crippling losses of £100m a year, Grangemouth is tipped to restart mothballed processing units, keep 1,000 people employed, support 10,000 ancillary jobs and turn a profit. Not only that, the exercise was nothing short of international cooperation on an epic scale. The ships were made in China to bring US gas to Europe, co-commissioned by a Switzerland-headquartered petrochemicals company with a British corporate DNA in partnership with a Danish shipping company.
To celebrate the occasion on Tuesday (27 September) we had bagpipers, canapes, fizzy pops, former Sky News anchor Lorna Dunkley and blustery winds as one of the shale gas bearing dragon-class carriers – the Ineos Insight – entered British waters.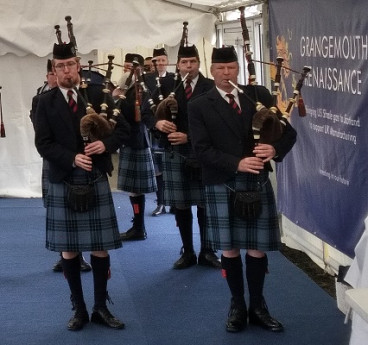 The local great and the good were around, as were several employees of Grangemouth chosen by lottery to join the party, along with 18 uninvited protesters outside and a lady walking her dog bewildered by the circus in town.
Conservative Prime Minister Theresa May promptly dispatched David Mundell, Secretary of State for Scotland and her only member of parliament north of the border, to join in the celebration.
For his part, Mundell reminded the assembled scribes, your correspondent included, that the [Westminster] government has "been proud to support the project" via its Infrastructure Loan Guarantee to the tune of £230m.
Surely, the publicity loving Sturgeon should have been there to celebrate such a momentous occasion, brag about how the SNP government in Edinburgh played its part in facilitating it. If not her, perhaps a junior minister could have been dispatched? Or perhaps her inimitable colleague Alex Salmond?
Alas there wasn't an SNP representative to be seen. A spokesperson for the party said "prior engagements and diary conflicts" were behind the nonappearances, even though a source reliably informs IBTimes UK that invites were sent out "ages ago".
Perhaps Sturgeon had guessed that much of the assembled media would quiz her on one line, and one line alone – hypocrisy – thereby turning the situation into a complete pig's breakfast rather than a splendid photo opportunity for the SNP.
I am no environmentalist, but I do agree with Friends of the Earth who have, for very different reasons, asked how is it ok to use imported shale gas to save jobs, a whole chemical plant and an area dependent on it, but somehow deem shale exploration dirty and unsafe in your own backyard?
Furthermore, in the lead up to the arrival of US shale gas on UK shores, Sturgeon's administration has actively engaged with Ineos' plans to shore up the future of Grangemouth. It is the very same company which as matter of public record holds 30 licences to explore shale gas in England.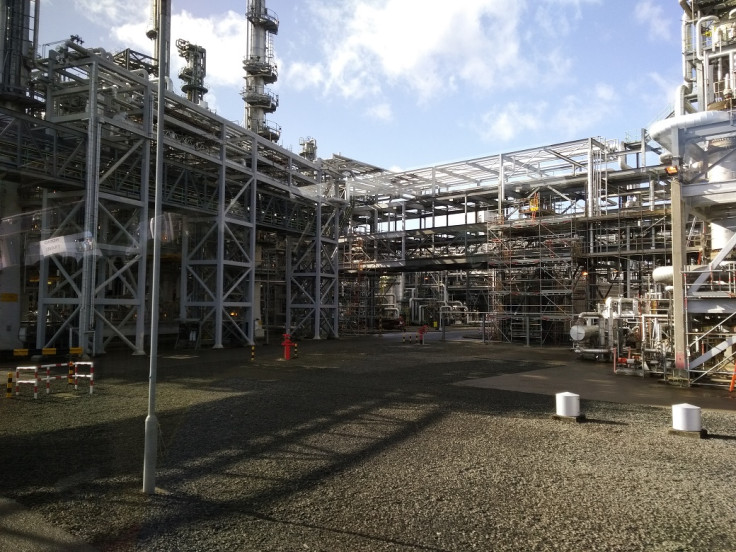 In fact, Scotland's deputy first minister John Swinney met with Ineos directors Tom Crotty and John McNally four times in the one year, with all meetings taking place after Edinburgh announced its moratorium on fracking in January 2015, ahead of the UK general election.
Three meetings were publicly acknowledged, the fourth came to light after a Freedom of Information request by STV News. However, the released document had the reason for the meeting redacted. For Ineos' part, Crotty told IBTimes UK that the company had engaged with Sturgeon's administration at key stages during progress of the project.
"We have been transparent about every aspect of our planning process with the Scottish government and have provided them with regular updates. It is strange that not a single member of their ranks decided to turn up at this historic occasion, despite expressing optimism about the undertaking from day one."
It would seem, SNP grassroots and their party leader might hate shale exploration, but they certainly don't hate job creation based on the proceeds of US shale, and shaking hands with a partner that is very much pro-shale in England and Wales. If you could describe it as anything other than rank hypocrisy, I'd like to hear it.
---
Gaurav Sharma is the Business Editor of IBTimes UK. He has been a financial journalist for over 15 years, with a core specialisation in macroeconomics and commodities. Follow Gaurav on Twitter here.
---