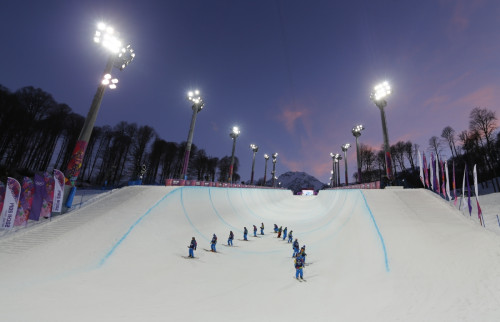 Where to Watch Live:
Live coverage of Day 11 of the Sochi Winter Olympics 2014 starts at 05:00 (GMT) on BBC2, red button, radio and BBC Online.
Events:
Curling - Men's and Women's Tie-breaker (from 05.00)
Alpine skiing – Women's Giant Slalom (from 05.30)
Snowboard – Men's Snowboard Cross (from 06.30)
Ice Hockey - Men's Play-offs Qualifications, Women's Classifications (from 08.00)
Nordic Combined – Individual Gundersen Large Hill/ 10km, Competition Round and Individual Gundersen Large Hill/ 10km Cross-country (from 09.30)
Short Track – Ladies' 1000m heats, Men's 500m heats and Ladies' 3000m relay finals (from 09.30)
Biathlon – Men's 15km Mass Start (10:30)
Speed Skating – Men's 10000m (13.00)
Freestyle Skiing – Men's Ski Halfpipe (from13.45)
Bobsleigh – Women's Heats 1 and 2 (15.15)
Brits in Action:
Paula Walker and Bex Wilson (bobsleigh), Murray Buchan and James Machon (freestyle skiing), Elise Christie, Jon Eley, Charlotte Gilmartin and Jack Whelbourne (short track), GB men's curling.
Freestyle Skiing
Murray Buchan and James Machon take to the halfpipe just days after compatriot and fellow halfpiper Rowan Cheshire put her games in jeopardy by knocking herself unconscious during training.
Buchan comes into the games as British champion while Sheffield's Machon is himself four-time British champion.
America's David Wise is the gold-medal favourite in this event as reigning two-time US champion and 2013 World Champion.
Short Track
Let's hope it's third time lucky for Britain's Elise Christie as she takes on the 1000m short track in which she is a strong favourite for a medal.
Christie is yet to experience anything but heartbreak in her first two distances after she was denied a silver medal in the 500m for a contact infringement and was just millimetres inside the black finish line in her 1500m heat which saw her disqualified yet again.
The 1000m is Christie's preferred event and she will be chomping at the bit to put past troubles behind her and ensure she finishes her games on a high.
Curling
After narrowly losing out to China 6-5 in session 12, David Murdoch's rink will face Norway in a tie-breaker on day 11, the winner of which will progress to the semi-finals.
The women meanwhile will safely progress after a comfortable 6-9 win over Russia.