In news any gamer from the 90s will find hard to believe, Sonic The Hedgehog is a playable character in the latest Mario platformer, Super Mario Maker. Screenshots posted to Miiverse have revealed his and other characters' in-game sprites in action, despite the game still being under a strict embargo.
This all stems from Super Mario Maker's previously announced Amiibo support, the extent of which can now be seen here. To date, we have seen Legend Of Zelda hero Link and the Wii Fit trainer appear as in-game sprites.
Super Mario Maker is Nintendo's big hope for final few months of 2015 and arguably for the console itself, which has endured disappointing sales despite a strong line-up of first party software. It is a game that allows players to create and share their own platforming levels based on the classic series' various tropes and designs.
The evidence was spotted on Nintendo's Miiverse service by GoNintendo (via Destructoid), with shared screenshots also revealing sprites for Pit from Kid Icarus and characters from surprise hit shooter Splatoon. You can see Sonic in the game below.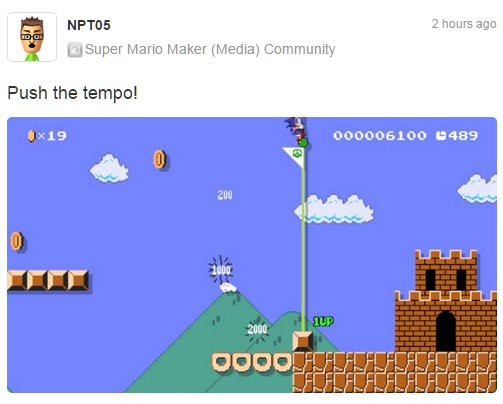 Sonic and Mario have shared the screen before, most notably in licensed Olympic Games titles and the last two Super Smash Bros games. This is the first time one has appeared in the other's most noted genre however. It also brings to an end whatever was left of the rivalry between Nintendo and Sega which was at its most ferocious during the lifetime of the Super Nintendo and Sega Mega Drive.
IBTimes UK has reached out to Nintendo for confirmation that Sonic does appear in the game. Super Mario Maker will be released on 11 September on Wii U.
For all the latest video game news follow us on Twitter @IBTGamesUK.