Bethesda has set up Fallout series mascot Vault Boy with an officially-commissioned profile on dating app Tinder in an effort to promote their Fallout Shelter game on mobile devices. "If love was radiation, I'd need a box of RadAways," reads the profile.
The fun act of viral marketing was unearthed by Kotaku reader Jason Mol, who sent the screenshot below to Kotaku. Vault Boy's Tinder lists him as 25-years-old and his interests as features of Fallout Shelter, a free-to-play management sim which puts players in control of their own post-apocalyptic vault.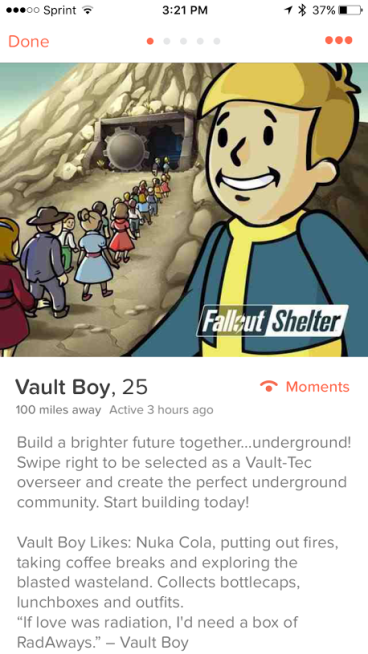 Vault Boy's profile sadly isn't set up as an actual dating profile, instead saying: "Build a brighter future together... underground! Swipe right to be selected as a Vault-Tec overseer and create the perfect underground community. Start building today."
Fallout's Twitter feed has been promoting the page too with the #DateADweller hashtag and dishing out dating tips for the post-apocalypse.
Vault Boy's interests – "Nuka Cola, putting out fires, taking coffee breaks and exploring the blasted wasteland. Collects bottle caps, lunchboxes and outfits" – all reference the mobile game, which was announced and released for iOS during Bethesda's E3 press conference earlier this year, and proved a huge success.
Fallout Shelter recently hit Android devices, but the excitement around the app has died down considerably since June.
Bethesda won't mind however, in terms of generating interest and excitement around blockbuster RPG Fallout 4 it has absolutely achieved its goal already.
Fallout 4 will be released for PS4, Xbox One and PC on 10 November.
For all the latest video game news follow us on Twitter @IBTGamesUK.