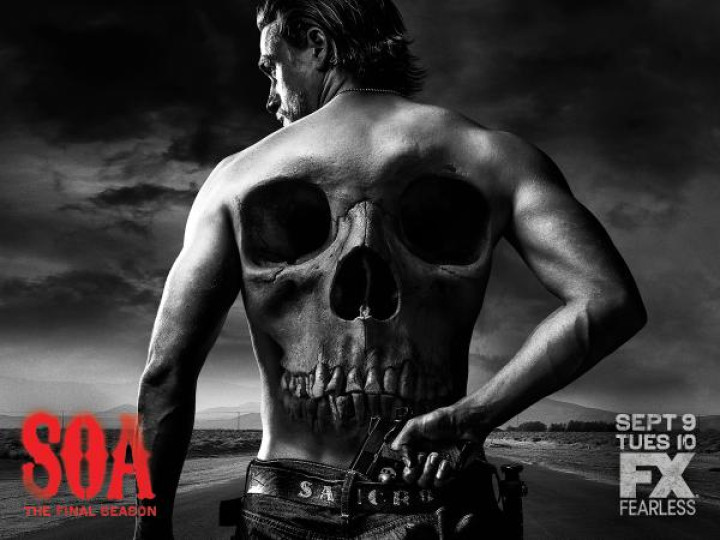 Sons of Anarchy Season 7 got off to a flying start as the premiere episode 'The Black Widower' was viewed by 10.2 million viewers.
The first episode of the final season ended on a bloody note as Jax Teller, the SAMCRO prince, kills an innocent member of Lin Triad who is framed in Tara's murder by Gemma.
Bewildered at Tara's murder, Jax kills the Triad member with a meat fork, while fans hope that the rusty and handsome SAMCRO head would find the truth and punish his mother Gemma.
However, little does he know that he has started a war with the Chinese gang as he killed the wrong person.
The second episode is titled 'Toil and Till' and will focus on Jax's plan to avenge Tara's brutal murder.
The official synopsis of the second episode reads: "SAMCRO solicits help from another Charter to get a messy job done."
"Lin ordered the hit on my wife," Jax tells the SAMCRO gang.
"You don't know that," Nero tries to alert Jax.
The second episode of FX's biker drama will also focus on Juice's escape plan and from the trailer it appears, he may join hands with the Mayans to get away from the wrath of the SAMCRO president.
"What makes you think I'd help you?" Juice tells the Mayans.
Will Jax get to know about Juice's betrayal and Gemma's evil planning and how dangerous he will become after he turns into a reaper in the upcoming episode?
"Gemma didn't really know anything about the war with the Chinese in order to make up that lie. It was Juice that gave her all that information, that she then fed to Jax. That all made it implausible for it to be manufactured by Gemma," show creator Kurt Sutter told TV Line.
"We've witnessed the damage that's been created by Gemma's secrets in the past, and this is no different. And, yet, again, she believes this is the best thing. Jax is the perpetrator of the violence, but she lights the fire," Sutter added.
Sons of Anarchy Season 7 Episode 2 'Toil and Till' airs on Tuesday, 16 September on FX networks.
Click here to watch the premiere episode of Sons of Anarchy online.
Click here to watch the live stream of the episode via video on demand.