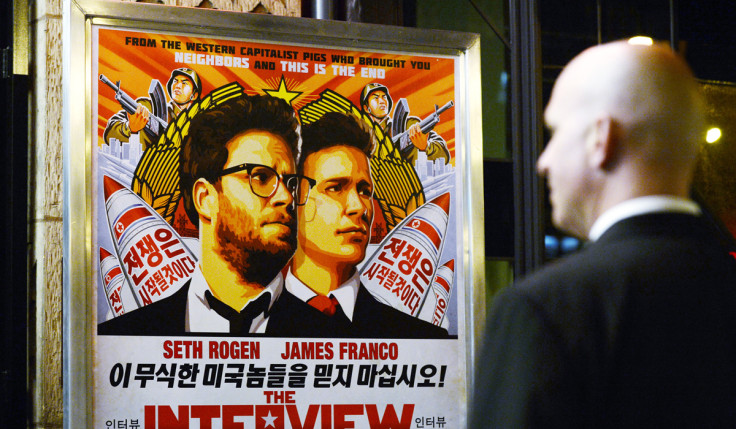 A racy scene depicting North Korean dictator Kim Jong-un, participating in a gay orgy was edited out of the final cut of The Interview, it has been revealed.
Sony Pictures initially cancelled the release of the film, fearing the controversial content, which depicts the assassination of the dictator, might spark terrorist attacks.
The movie stars Seth Rogen and James Franco as two hapless journalists tasked with 'taking out' Kim Jong-un after they secure a TV interview with the dictator.
The film studio's systems were hit by a vast cyber security breach, which led to unidentified hackers leaking unreleased movies, private emails between senior executives, and confidential personal details of staff.
The company came under fire for caving in to North Korean intimidation, with US President Barack Obama branding the decision "a mistake" prompting Sony to do a u-turn.
Speaking to The Sunday Times, Sony staff described the version released last week as a "redacted version" and expressed hopes that the full unedited movie would be released on DVD in a "director's cut version."
A 10 minute gay orgy scene between Kim Jong-un (played by Korean-American actor Randall Park) and the television presenter Dave Skylark played by Franco, was included in a version of the film's original script.
"Dave and Kim are in a bed naked, with the four women," it reads. "They're all playing MORTAL KOMBAT."
Details of the scene were released online after Sony was hacked, however the scene was omitted from the final film and replaced with a toned down version.
Another scene that did not appear in the film, was a conversation between Rogen and Franco about Kim Jong-un's alleged sexual prowess.
"Moreover, he is champion at fellatio. He can suck a 12 inch c*** while ice-skating backwards," Rogen's character says in the script.
The hacking scandal and the cancellation of the film by Sony garnered widespread interest in the film, sending audiences to independent cinemas in their droves where the film was finally screened on Christmas eve. On opening day, the movie grossed $1 million.
North Korean leader Kim Jong-Un condemned President Obama for encouraging the film's release. He spewed racial slurs at President Obama as they blamed him for the movie's release.
"Obama always goes reckless in words and deeds like a monkey in a tropical forest," a spokesman for North Korea's National Defence Commission said in a statement.
President Obama has pledged a "proportionate response" after the Sony attack.