Key features:
10.1in screen with 2560 x 1440 resolution
6.1mm thick, weighs 393g
Android Lollipop 5.1
Quad-core Snapdragon 810 processor with 3GB RAM
32GB storage, plus up to additional 128GB via microSD card slot
8.1-megapixel rear/ 5.1MP front cameras
Price as reviewed: £579 (Wi-Fi and 4G)
Sony Xperia Z4 Tablet review:
If you are setting out to make a new piece of technology, make sure it is thinner and faster than whatever went before it. In 2015 that has become the golden rule for consumer tech. Phone and tablets are getting skinnier and speedier by the month – yet despite these fairly small yearly changes, consumers continue to lap them up all the same.
The latest to get thinner and faster in the Sony Xperia Z4 Tablet, an Android tablet with a 10.1in screen and which is just 6.1mm thick – 0.3mm thinner than the year-old Z2 it replaces.
It also has a much higher screen resolution, a faster processor, and is more waterproof.
To tempt tablet buyers into ditching their laptop, Sony has also released a new keyboard dock with the specific aim of turning the Z4 Tablet into computer.
Sony Xperia Z4 Tablet: Look and feel
Thin and light is the signature dish of the Sony Xperia Tablet. Since the first one arrived a couple of years ago I have never ceased to be amazed at just how petite they are. This latest model is exactly the same thickness as the iPad Air 2, but by weighing around 50g less, the 393g Sony appears almost to defy gravity – especially since the Z4's screen is 0.4in larger.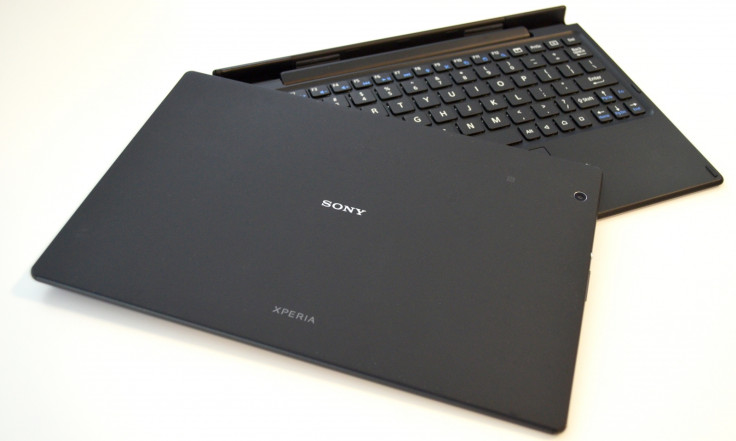 Weight is saved by opting for a plastic back and sides instead of aluminium, but the matt finish still makes the Z4 feel premium enough to justify its £500 price tag (32GB with keyboard dock). There are metal caps on each corner to help protect the Z4 from any knocks or falls, while glass with an oleophobic coating keeps the screen scratch- and grease-free.
There's a microSD card slot to increase the storage by up to 128GB, alongside a SIM card slot for adding a 4G connection; both are behind a door to make them waterproof, although the tablet's micro USB charging port needs no such protection. Overall, the Xperia Z4 is an attractive and well-made slab of tablet with good (if slightly unimaginative) looks and a premium build quality which proves you can go head-to-head with Apple without needing to use aluminium.
Sony Xperia Z4 Tablet: Screen
By doubling the Z2's resolution, Sony has made the Z4 Tablet a fully paid-up member of the 2K club, with a resolution of 2560 x 1440 and a pixel density of 299. Resolution was all that really let down the Z2, so I'm glad to see that problem eradicated here.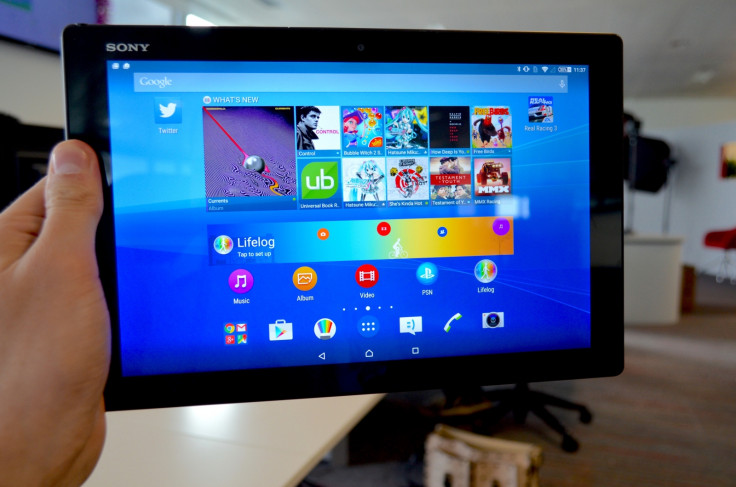 It's a lovely bright screen with good colour reproduction and a strong enough backlight to overcome the worst of the inevitable reflections and glare. The extra pixels make text rounded and smooth, with no jagged edges. The widescreen aspect ratio is perfect for watching film and TV, but can make websites quite shallow/narrow when viewed in landscape/portrait, compared to the squarer iPad.
Sony Xperia Z4 Tablet: Keyboard
All was going well with the Xperia Z4 Tablet until I got to the included keyboard. Bundling a dock with keyboard and trackpad is a great idea, but unfortunately the execution leaves much to be desired. The dock contains no ports or an extra battery, nor does it connect to the tablet, so it requires charging separately through its own micro USB port. Connecting to the tablet view Bluetooth was easy and took no time, but actually getting the keyboard to work took a lengthy session of reboots and random button presses/screen prods until it came to life.
The keyboard itself is fully-featured and even has keys specifically for Android, such as Home, Back, Multitasking, and a button to bring down the notifications menu. But they are all very small. Keys feel cramped and some are absolutely tiny; I constantly hit the power button instead of the delete key.
There is also no backlighting and even a caps lock light is missing. The trackpad isn't much better, with a spongy click and a huge delay between you swiping across it and it actually responding. I think this is the palm recognition technology deliberately not responding, but it just means the trackpad takes a couple of seconds to wake up every time you stop typing.
Scrolling down would often cause a jump back to the top of the page, or vice versa.
You'll be shown this free addition in the shop and tell the salesman that yes, you'll definitely use it instead of digging out the laptop. But you won't. It's slim and seems a good idea in the shop, but it's destined for a life in that drawer you keep spare cables and old batteries in.
Sony Xperia Z4 Tablet: Software and performance
Sony completely fluffed it recently with the Xperia Z3+ smartphone – known as the Z4 internationally. The flagship handset overheating far too easily, making most of the camera's features unusable for more than a few minutes.
Seeing Sony had opted for the same Snapdragon 810 processor here with the tablet made me fear a repeat failure, but thankfully this is not the case. The back of the tablet gets hot, but is not as finger-burning as the Z3+; and while the 8-megapixel camera still struggles badly with some augmented reality features, it doesn't overheat quite so readily. Perhaps because some of the Z3+'s most intense (and potentially impressive) features have been removed for the tablet.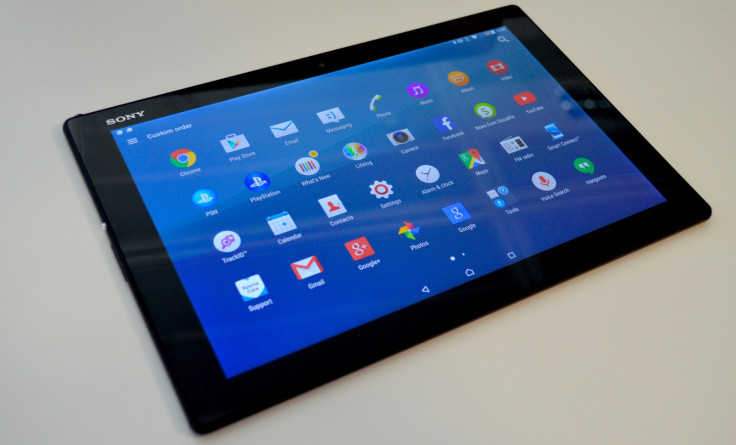 Aside from the flaky camera, the Z4 Tablet runs smoothly and responds as quickly as a £500 tablet should. Apps and games open quickly, multitasking between them is smooth and the user interface is simple and intuitive to use most of the time. Sony's insistence in including its own applications when Android alternatives already exist is annoying – do you use Music or Play Music, Album or Photos, Video or Play Movies & TV, Play Games or PlayStation?
Sony's modifications to Android Lollipop 5.1 are all very similar to previous versions, meaning minor redesigns to the application menu, multitasking, and drop-down notification/settings panel.
Battery life is about on par with the Xperia Z2 Tablet, meaning a feature-length film will take charge down by between 20 and 30% depending on screen brightness and what apps you have open and fetching data in the background. Given the extra resolution over the Z2, maintaining similar battery life is an impressive achievement from Sony.
Sony Xperia Z4 Tablet: Verdict
Sony has delivered a strong and comprehensive update to its flagship tablet. A replacement for the Z2 (not the smaller Z3 from last year), the new Z4 is lighter, thinner, faster and more waterproof, with a sharper screen. That's a pretty compelling list of upgrades which put it right into the mix with the iPad Air 2 and Samsung Galaxy Tab S.
The Snapdragon 810 processor has its limitations, but at least here it performs much more reliably than in the Z3+ smartphone. I'm glad to see the extra screen resolution hasn't impacted battery life, while waterproofing without port covers is always welcome. The keyboard leaves much to be desired though, and it's a shame you can't buy the tablet without it to bring down the fairly high price – £499 for Wi-Fi and £579 for 4G.
A strong contender to keep Apple and Samsung on their toes, the Xperia Z4 Tablet entirely deserves its seat at the top table for tablets in 2015.
Sony Xperia Z4 Tablet scores:
Screen: 9/10 - Benefits from a pixel boost, but isn't quite a match for the iPad Air 2
Design: 9/10 - Thin, light and waterproof, but widescreen aspect ratio isn't always ideal
Software: 8/10 - Lollipop is as good as ever, while Sony's changes are mercifully minimal
Build Quality: 8/10 - Strong and tough despite its size, but plastic rear marks easily
Value: 7/10 - Expensive price is almost justified, but keyboard dock lets it down
Overall: 8/10 - High-end tablet with looks and screen to match – shame about the keyboard dock and occasional performance shortfalls
The Good:
High-resolution screen
Thin and light
Waterproof without port covers
The Bad:
Plastic instead of aluminium
Occasional performance issues
Poor keyboard dock