South Africa xenophobia: Peace march planned in Durban after deadly anti-immigrant violence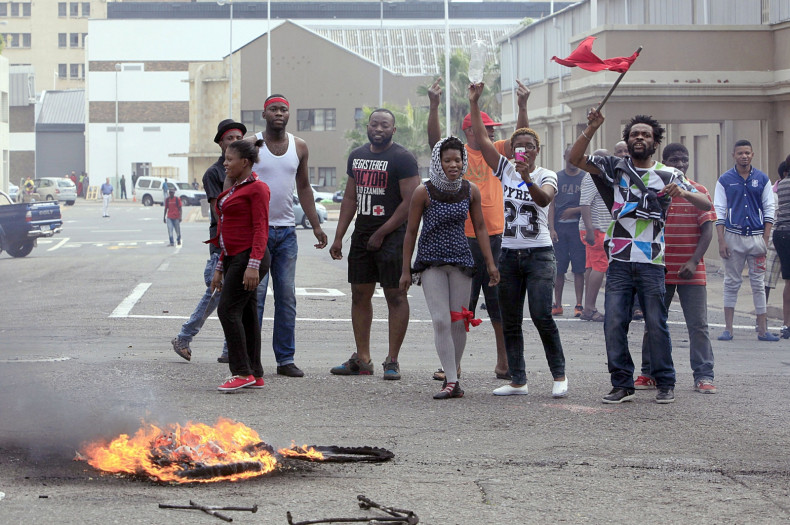 Religious and political leaders are planning a peace march in Durban, South Africa, where at least five have been killed after attacks by locals on foreign-owned shops and businesses.
"On [16 April] there will be a march led by various sectors of government from Curries Fountain as a stand against xenophobia, as an expression of commitment to ending this kind of violence and to protecting lives," said Thami Ngwenya, a spokesperson for the KwaZulu-Natal government.
On 14 April, there were running battles on the streets of the coastal city, as thousands of locals attacked foreign-owned shops and businesses, with the police firing tear gas cannisters to disperse the crowds.
Five have been killed so far, including a 14-year-old boy, after the violence flared on 10 April, and over 1,000 immigrants were forced to flee their homes in the city and take refuge in temporary camps. While there was looting in a northern area of Durban overnight, police said the city had mainly been quite.
"We are actually surprised at how quiet it is [this morning]. We were expecting much more," said one public order police officer who did not want to be named, speaking to South Africa's News24.
Thursday's "Not in Our Name" march will be led by political and religious leaders, including the Premier of KwaZulu-Natal, Senzo Mchunu.
"This is bringing shame to our country," Ngwenya said. "The position is that we condemn this and the focus is to end the violence and bring stability and ensure that we get to address these issues. It basically has a lot of criminal elements. It is the targeted looting of shops owned by foreign nationals. Police have been deployed and are trying to quell the situation.''
The 14 April outbreak of violence occurred only hours after South African Home Affairs Minister Malusi Gigaba promised diplomats from Nigeria, Somalia, Malawi, Mozambique, and Ethiopia that police would protect their citizens.
Most targets of the violence are believed to be economic immigrants from other African countries, with violence breaking out after Zulu King Goodwill Zwelithini said in a speech that immigrants should go back to their own countries.