The South Sudanese army has released six aid workers accused of allegedly smuggling weapons to the opposition in the city of Yei, in the country's south-west. The aid workers, from international medical charity Médecins Sans Frontières (MSF), were arrested in January.
"We are relieved that our colleagues, who were working hard to bring health care to people in need, have now been released and can return to their families," Brice de le Vingne, MSF director of operations said in a statement to news agency AP.
Two of the aid workers were released on 27 January and the other four on 31 March.
However, South Sudan's information minister insisted the charges against the humanitarian staff – two foreigners and four locals – were valid and investigation is ongoing.
"They were caught red-handed carrying ammunition and arms," Michael Makuei told AP by phone on Monday. He added the aid workers had left Yei without permission.
Aid workers are facing challenging times in South Sudan, ravaged by civil war and famine. The country as been deemed as one of the most dangerous places for humanitarian workers, who have been raped, kidnapped and subjected to mock executions in the war-torn country.
Earlier this week seven members of NGO Grassroots Empowerment and Development Organisation (Gredo) were ambushed and killed.
And although the incident was described as the worst attack on NGO staff since the war broke out, it was only the latest example of violence against aid agency workers.
The UN has estimated that at least 79 aid workers have been killed in South Sudan since the war began. Of these, 12 have been killed since the beginning of 2017.
In spite of the scale of violence, aid agencies told IBTimes UK they will continue their operations in the country, where lack of food and instability are threatening the lives of million of people,
Earlier this month, South Sudan temporarily suspended legislation that increased visa fees for foreign workers. Earlier this year, the government increased fees for foreign nationals from $100 (£92) to $10,000, amid fears the fee hike could hinder access of humanitarian staff in the country.
South Sudan conflict explained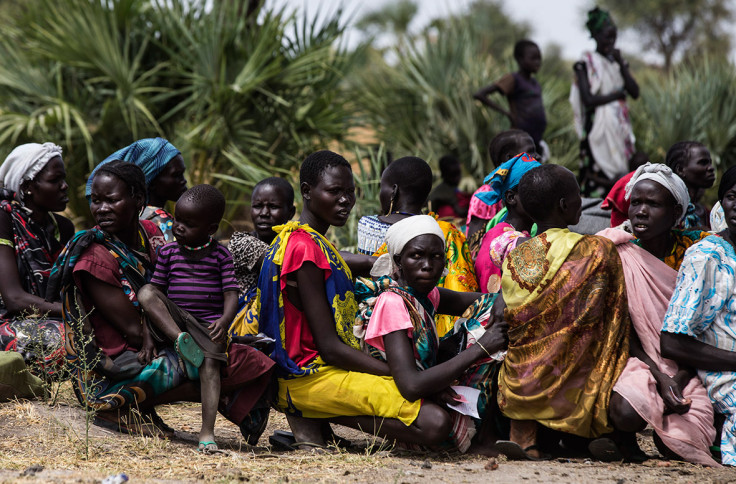 The South Sudan conflict erupted in 2013 when President Salva Kiir, of the Dinka ethnic group, fired his deputy Machar – from the Nuer group – who then became a rebel leader.
Ethnic-related violence targeting Dinka and Nuer peoples has killed an estimated 50,000, amid allegations of crimes against humanity committed by both sides, including rape, torture and the use of child soldiers.
At least 1.5m people have fled to other countries. The exodus has been deemed "Africa's worst refugee crisis". More than 2m people are internally displaced.
Kiir and Machar have agreed on several peace deals – the last of which was signed in August 2015 – but have failed to control their troops, who have broken every ceasefire since 2014.
Machar fled South Sudan following deadly fighting in the capital Juba in July 2016.
He is currently in South Africa seeking medical treatment but, in an exclusive talk with IBTimes UK, Machar said he was ready "to go home".
His wife, Angelina Teny, also believes her husband can contribute to achieving peace in the war-torn nation which is on the verge of a Rwanda-style genocide.