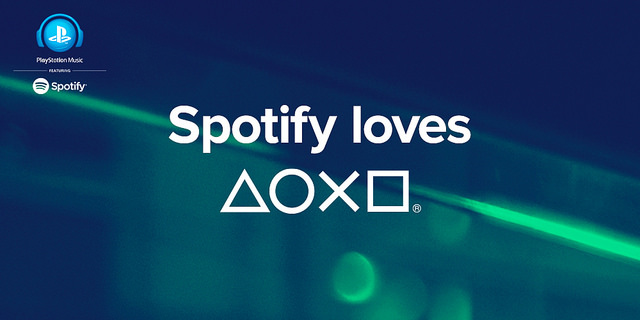 Sony has announced that music-streaming service Spotify is coming to its PlayStation consoles.
Eric Lempel, Sony Network Entertainment's VP, took to the PlayStation blog to make the announcement, revealing that Spotify will replace Sony's Music Unlimited service, which closes on 29 March.
Sony plan to bring PlayStation Music with Spotify to 41 markets (including "nearly all" of the 19 countries where Music Unlimited is available) later in the spring. Features "available exclusively" through Spotify on PlayStation Music will be announced closer to launch.
The new look PlayStation Music will also launch on Xperia smartphones and tablets.
Gamers on PS4 and PS3 will be able to listen to Spotify's "30 million songs and 1.5 billion playlists" at the same time as playing games on the consoles. "Want something heavy and rocking for an intense Destiny Raid? How about some old school hip hop while taking the field in Madden NFL? Spotify on PlayStation Music has it covered," reads Lempel's blog.
Music Unlimited subscribers with an active subscription on 28 February will be granted free access to the service until it shuts down one month later.
"Music is a core component of the entertainment offering that consumers expect from Sony, and our goal with PlayStation Music is to provide the most compelling music experiences to the millions of PlayStation Network users around the world," said Andrew House, President and Group CEO of Sony Computer Entertainment in a statement.
"This partnership represents the best in music and the best in gaming coming together, which will benefit the vibrant and passionate communities of both Spotify and PlayStation Network. We're thrilled to make Spotify the foundation of our strategy with PlayStation Music," he added.
Daniel Ek, CEO and founder of Spotify added: "We are incredibly honoured to partner with Sony and PlayStation to give gamers around the world an amazing experience wherever they listen to music. As a gamer and PlayStation 4 user myself, I'm super excited to be able to soundtrack my FIFA 15 Arsenal matches later this spring."
It will certainly be interesting to see how Spotify can be implemented by the games themselves too. Developers could curate their own playlists for players to listen to for example.