Star Wars fans across the globe have a poorer impression of Kylo Ren and Supreme Leader Snoke than they do Jar Jar Binks.
A symbol of ridicule for the widely mocked Star Wars I: The Phantom Menace, Jar Jar Binks alienated fans with his annoying voice and stupid catchphrases. But according to a survey released by Morning Consult, 37% of viewers now have a "favourable impression" of the character.
Kylo Ren's score was 5% lower at 32% and Supreme Leader Snoke bottomed the poll at 26%. Rey was not much better either, sitting just above Jar Jar Binks at 38%. Finn and BB-8 finished midtable on 39%.
The survey found that people still prefer the original trilogy characters with Princess Leia topping the charts at 73%. Luke Skywalker was equal runner-up with Chewbacca and Yoda (72%). Han Solo finished sixth on 68%.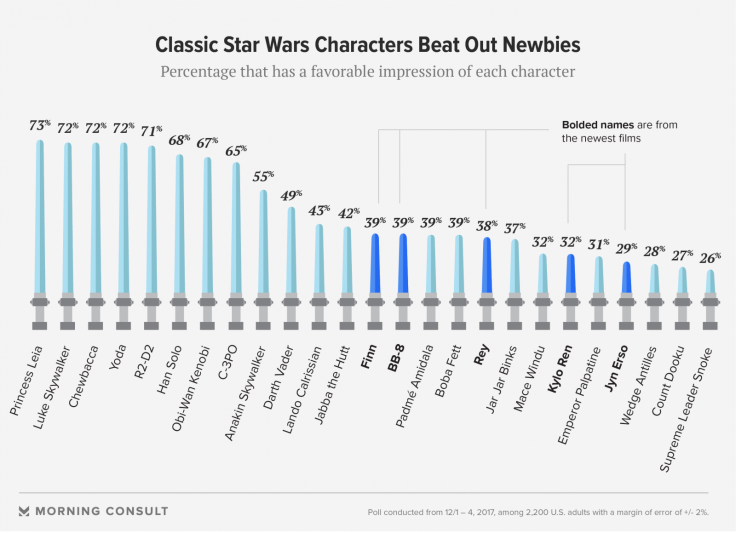 Morning Consult also surveyed on which movies in the series were most loved, and the original trilogy came out comfortably on top. Episode IV: A New Hope, Episode V: The Empire Strikes Back and Episode VI: Return of the Jedi all returned scores of 94% from those surveyed (which was around 2200 people). But strangely, only about 45% of people surveyed had actually seen the films.
The prequel trilogy had the lowest impression, albeit still not an awful one. Episode I: The Phantom Menace was the lowest of the series at 84%, just above Episode II: Attack of the Clones at 85%. Episode III: Revenge of the Sith topped the trilogy at 88%. Again, the data was slightly distorted because only 40% respondents had seen the film.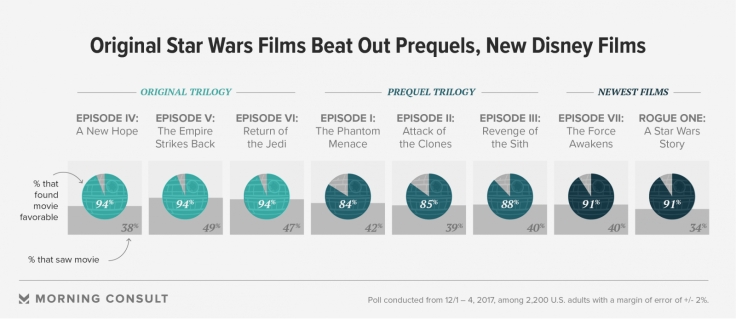 And as for the new generation, appeal sits somewhere in the middle. 91% of people found Episode VII: The Force Awakens favourable, the same as Rogue One: A Star Wars Story.