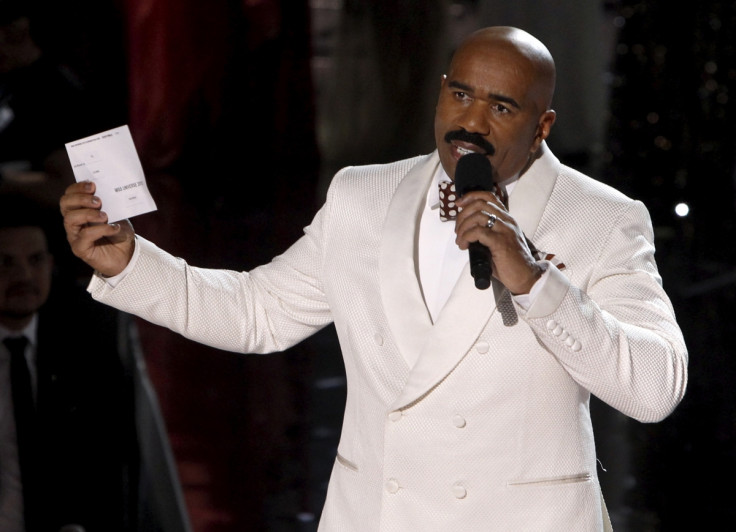 Steve Harvey has confirmed that a leaked email ordering his staff not to "ambush" him at work or come into his dressing room without an appointment is the real deal. The 60-year-old star became the butt of jokes online and was accused of acting like a ''diva'' after the fiery memo surfaced earlier in May.
Speaking to Entertainment Tonight, the TV veteran said that while he acknowledges that the situation could've been handled differently, he believes he had no choice.
"I don't apologize about the letter, but it's kind of crazy what people who took this thing and ran, man," he told ET's Kevin Frazier. "I just didn't want to be in this prison anymore where I had to be in this little room, scared to go out and take a breath of fresh air without somebody approaching me, so I wrote the letter."
He explained that the situation with his colleagues from The Steve Harvey Show talk show had needed to be address because "I could not find a way to walk from the stage to my dressing room, to sit in my makeup chair, to walk from my dressing room to the stage or to just sit and have lunch without somebody just walking in."
Harvey said he simply crafted the message in an attempt to introduce better work etiquette and issue a stern warning to members of his team. "I've always had a policy where, you know, you can come and talk to me – so many people are great around here, but some of them just started taking advantage of it."
Although the host of the Family Feud, who will now be moving his Steve Harvey Show to new headquarters in Los Angeles, faced widespread criticism, some fans defended the TV star's need for ''personal time''.
One commentator said: "I can't stand Steve Harvey, but everyone has a right to set boundaries. He probably had to be firm, people tend to ignore nice requests," said one commentator.