Street Fighter 5: Capcom announces post-release DLC can be bought or earned for free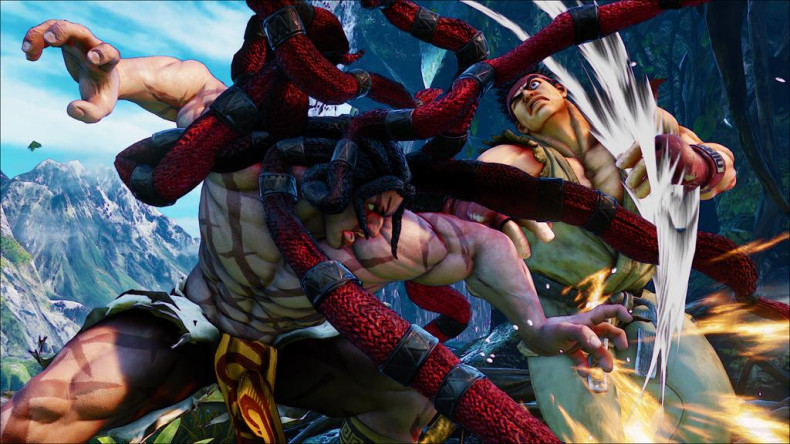 Post-release Street Fighter 5 content will be delivered in a very different way to Street Fighter 4 it has been announced, with Capcom promising "the initial release is the only disc you will ever need to own."
The news arrived during the Evolution 2015 fighting game championship held this past weekend (17-19 July) in Las Vegas, where a brand new character - Necalli - was also announced.
Writing on the PlayStation blog, Capcom Community Manager Peter Rosas said all future balance and system updates will be made available for free and that players will be able to earn "post-launch gameplay related content" for free as an alternative to paying.
"Street Fighter V will be the first iteration in the franchise where it is possible for dedicated players to earn all gameplay related content (such as characters) for free, simply by playing the game," said Rosas.
"Long gone are the days of forced Super and Ultra upgrades! Enjoy free balance updates as soon as they become available, and find and choose the post-launch characters that you want to get."
These characters will be earned with either "Fight Money", the currency earned through playing the game, or with "Zenny", a currency which can be bought in bulk with real money. It has not been confirmed whether the two can be used in tandem.
Rosas also revealed that the game will launch with 16 fighters, including four brand new characters, and be updated on a "continuous basis" post-launch.
"Looking back on the Street Fighter IV series, we had always released bundles of content all at once, like with Super Street Fighter IV and Ultra Street Fighter IV. While these one-time updates did revive interest in the series every few years, it was difficult to keep players engaged for long periods of time unless they were competitive.
"This also punished players who took a break from playing the game, because if they wanted to start again in a few years, they would be forced to purchase an upgrade to join the existing player pool who had already moved on to a new version. On top of that, this old method also forced players to purchase all of the new content, even if only a few characters may have appealed to them."
Street Fighter 5 will be released on PlayStation 4 and PC. Capcom have confirmed that no Xbox One version of the game will be developed at a later date.
For all the latest video game news follow us on Twitter @IBTGamesUK.