Suicide 'Skwad': Will Smith and Margot Robbie tattoo director David Ayer and co-star Jai Courtney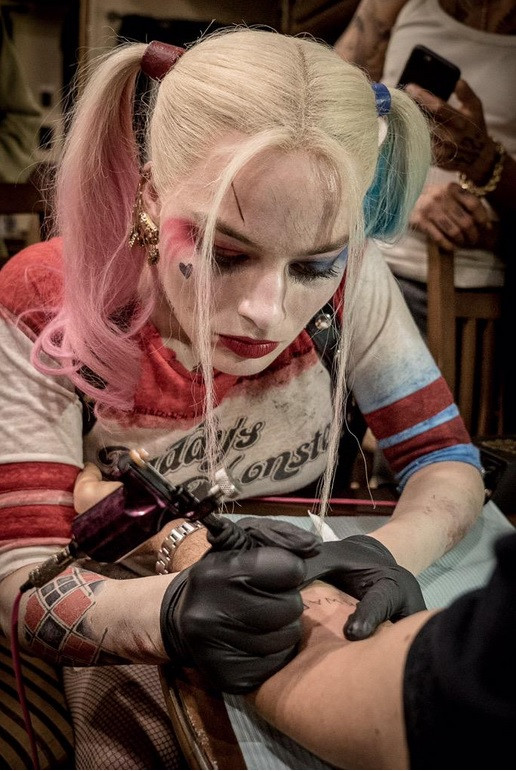 Margot Robbie tried out her skills as a tattoo artist on the set of Suicide Squad
David Ayer/Twitter
You'd only have to look at any one of their social media accounts to know that the cast of Suicide Squad are getting along swimmingly as they film the upcoming comic-book movie. Every other post is a group shot of the wild-looking gang, grinning away, accompanied by the hashtag "#squadgoals" or "aintnobodymessinwithmyclique."
And now it seems both cast and crew wanted to cement their bond by giving themselves tattoos to remember working on the highly anticipated movie.
Dressed as her character Harley Quinn, Australian actress Margot Robbie appeared to become the honorary tattoo artist on set as she inked director David Ayer in the appropriately deemed area, "Harley's Tattoo Parlour." Ayer took to Twitter afterwards to share an image of a focused Robbie inking the word "skwad" into his forearm.
But the 25-year-old didn't stop there with her new-found artistic skills, as she then went on to permanently tag co-star Jai Courtney, who plays Captain Boomerang in the movie, with the same mark. Courtney also showed off his new artwork over social media, uploading a snap of his new tattoo on his Instagram account.
Robbie wasn't the only one to try out being the artist however as Will Smith had a go inking the same design on Joel Kinnaman, who will feature as leader of the group Rick Flagg on-screen. Kinnaman shared an Instagram post that showcased his new tattoo and saw Smith posing next to it with a tattoo gun in his hand, demonstrating that he had been the one to ink his co-star. Although he will be playing highly skilled assassin Deadshot in the movie, Smith evidently didn't display that level of accuracy for this specific task however, as Kinnaman captioned the photo: "Will has many many talents, tattooing is not one of them. It was like watching a drunk baby fly a helicopter."
Cara Delevingne who plays Enchantress in the upcoming movie also appeared to be at Harley's Tattoo Parlour last night, as she posted an Instagram photograph of the back of her and Robbie's heads, as you can see director Ayer in the background, with the caption "SKWAD," but it remains unknown as to whether the Paper Towns actress actually had any ink done herself.
Scheduled to hit cinemas in August 2016, the film centres on imprisoned supervillains rather than the typical heroes seen in comic book movies, as they are forced to carry out black-ops tasks for a corrupted government agency in turn for leniency with their jail sentences. Alongside the stars mentioned Viola Davis, Scott Eastwood and Jared Leto will feature in the movie. Batman himself, Ben Affleck will also have a small role.