It's safe to say that Suicide Squad is one of the most highly-anticipated movies of 2016, and by the time it finally makes it way into cinemas in the summer, comic book fans will have an idea as to where the DC cinematic universe will be heading, and what kind of tone it plans to exhibit throughout future movies.
Even just by looking at the trailer, audiences can tell that Suicide Squad will be dark and adult-like, miles away from the glossy comics, Gotham or even the Adam West Batman series. Speaking in an interview with Cineplex, Margot Robbie has opened up about her character, Harley Quinn – who probably has the most altered look out of all of the ensemble – and what it was that initially drew her to playing the well-loved, but undeniably disturbed, baddie.
"Harley is creepy, violent, crazy – all of the things that I aspire to be! No. It's the fun of living vicariously through someone who is doing things that I would never do in real life," she said.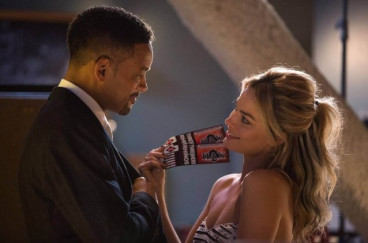 The former Neighbours actress also went on to discuss her on-screen reunion with her Focus co-star Will Smith – who plays accurate-assassin Deadshot in the upcoming Warner Bros movie. "I enjoyed working with Will so, so much that I was overjoyed when I heard that we would be working together again.
"I actually texted him when I heard he was in negotiations to be in Suicide Squad and kept peer-pressuring him: 'You'd better be taking this movie!'"
The 25-year-old added: "He obviously signed on for his own reasons, but I was so incredibly happy that we got to do round two. He's awesome on set and awesome off set. He's just a really, really good person."
When it comes to DC, everyone knows of Harley's romantic ties with the even more maniacal Joker, but it seems like her chemistry with Smith was too hard to pass up by the Suicide Squad film-makers too. "Harley is the biggest troublemaker but Deadshot's actually eyeballing her a little bit," Smith previously told Empire magazine. "There's a pretty ragged romantic triangle there."
However, the decision wasn't all down to the actors' rapport. In the comics, Deadshot and Harley have appeared as a couple multiple times, with Deadshot even killing himself once (or so he believed) to save Harley's life.
The film, which also stars Cara Delevingne, Jai Courtney, Joel Kinnaman, Viola Davis and Ben Affleck, will reach both UK and US cinemas on 5 August 2016. It centres on a number of imprisoned supervillains, rather than the typical heroes, who are forced to carry out Black Ops tasks for a corrupt government agency in exchange for less severe jail sentences.
However, before Suicide Squad reaches cinemas, Robbie will be seen onscreen playing Jane in The Legend Of Tarzan and will appear in war comedy Whiskey Tango Foxtrot alongside Martin Freeman and Tina Fey.
For more entertainment news follow A-List on Twitter @Alistinsider