The Super Bowl 50 game between the Carolina Panthers and Denver Broncos on 7 February will be played in the most technologically advanced sports stadium in the world. Just a few miles from the headquarters of Apple, Google and Facebook in California, IBTimes UK visited the Levi's Stadium to find out how smartphone apps (and 400 miles of cables) are changing the way we watch live sport.
Driving the Levi's Stadium's technology is a world-class internet connection. It clocks in at 40 gigabits and is fed through 70 miles of cables to 1,200 antennas linked to Wi-Fi routers which are spread evenly so every 100 of the 70,000 fans gets their own.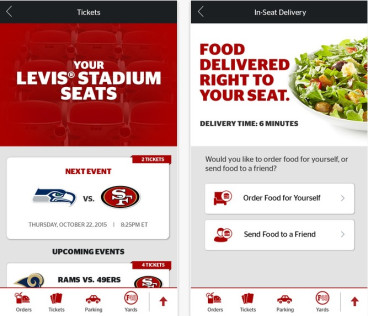 The Wi-Fi is used to stream stats and instant replays to the stadium's own smartphone and tablet application for iOS and Android. Here, fans can view up to four replays at once and watch the same feed being broadcast on television – perfect for keeping up with the scores when several games are going on at once.
As well as being able to watch footage on their smartphones, fans are treated to more than 2,000 Sony TVs distributed throughout the stadium, plus 70 Ultra HD screens in the suites and a giant LED display in each end zone. All are managed from Sony's control room.
The Levi's Stadium app works over Wi-Fi or the stadium's own 4G network, providing coverage from all major main US carriers. Visitors are told which car park is closest to their seat then, using 1,700 Bluetooth Low Energy beacons, they are guided to their seat, or any other place in the stadium. The app not only directs fans to the nearest toilets but also knows which have the shortest queues.
People sat anywhere in the stadium can order food and drink and have it delivered directly to their seat. Alternatively, they can opt to collect their food from an express pickup queue.

The technology, provided by Intel, SAP, Yahoo and Brocade, is hugely impressive and answers a lot of the demands from live sports fans. But when it comes to experiencing the game as intimately as possible, the low-tech (but eye-wateringly expensive) option is always the best.
Fans willing to pay $80,000 (£55,000) for the Levi's Stadium's most expensive personal seat licence (giving them the exclusive right to buy tickets for a specific seat) get access to a private lounge and bar either side of the halfway line, plus their own viewing space right next to the pitch. Stood here, fans are as close to the action as team staff, managers and substitutes.