Buy one, get one free. Can you imagine a more enticing offer? You simply hand over the money needed to purchase a single item, and voila. There is another one in your shopping trolley at no extra cost. Isn't life grand?
Grand, possibly, but also not quite so simple. The monosyllabic magic of the BOGOF deal hides a much more complicated story. The average UK household throws away £700 worth of food a year, according to the writer and campaigner Hugh Fearnley-Whittingstall.
A third of the food produced in the UK never gets eaten. The UK dumps 14 million tonnes of food waste a year (twice the EU average), half of which comes from households. This is not so much a "buy one, get one free" world as a "grab the multipack, throw half of it away" one. Meanwhile three food banks are opening every week, according to the Trussell Trust – there are now 345 of them – and 4.7m people live in "food poverty". This does not add up. Is it time to get tougher with the supermarkets?
The French seem to think so. A law passed in the French senate will require supermarkets to donate any unwanted food to charities and food banks, or be fined €3,750. The law will apply to any supermarket covering 400 square metres or more.
And yet UK supermarkets do not have such a bad story to tell about their handling of food waste. It's not just Waitrose that sends no food waste to landfill. Sainsbury's, Asda and Tesco say they have achieved that target too. Aldi says it donates surplus food to charities, as does Morrisons, who have also started selling more "wonky" vegetables. Lidl does not print "best before" dates on a lot of fruit and vegetables, and also donates its surplus food, producing, it says, less than 1% of its total turnover in food waste.
Read more: Why too many people are going hungry in the UK
So why the mounds of rotting vegetables, the guiltily chucked-out uneaten products, that sense of offer after offer luring us to spend more and take home food we will never eat, while others go hungry? Why is our food production and consumption so out of kilter?
In the 1950s, when incomes were of course lower, about a third of the weekly household spend went on food, the Office for National Statistics says. Today that figure is just under 15%. Perhaps some of us are now just a bit more casual about our spending on food, as memories of rationing finally fade away altogether.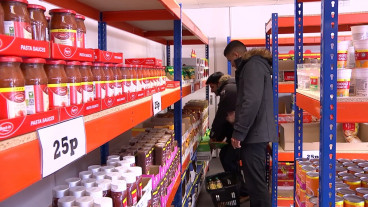 Lidl and Aldi have established new, lower price points. Although inflation has been flat in recent years, so too have wages. The big four have had to respond to price competition, while trying to maintain some sort of profit margin to keep investors happy.
It was this sort of ultra-competitive, lean margin world which gave us the horrors of the Tesco horsemeat scandal. Aggressive attitudes to suppliers led to corners being cut. "Quality control" became a bad joke. Customers lost faith, for a while at least. But how seriously do shoppers question the "hard discounters" (Aldi and Lidl) about how they manage to keep their prices quite that low? Do we want to know the circumstances in which some of these items are being produced?
Read more: EasyFoodstore will continue to shake up the market
We are all guilty, all of us who are involved in this system. Cheaper food is good news for some, of course. And yet the prices do not represent the full cost of producing, for example, a chicken which sells for £5. There is the cost of carbon emissions and pollution from intensive farming to consider too.
The supermarkets, having become expert marketeers, know all about price and market segmentation. Perhaps those of us who can afford to pay more should do so? This already happens to some extent, with organic or so-called "finest" or "taste the difference" premium products. (The definitions vary depending on where you are shopping, of course. I note that Waitrose has an "essentials" – ie budget – range which includes focaccia.)
No one, I think, is going to suggest bringing back rationing, yet. So we all need to up our game. Better off consumers could become more "conscious": are you really going to eat all that stuff in your trolley or online delivery? The shift to shorter, more frequent shopping trips suggests some households are trying to waste less from big, bulk shopping trips.
But supermarkets need to smarten up too. Why push these multibuy "deals", many of which turn out to be no deal at all? Why reject normal fruit and vegetables? Will customers really turn their backs on them, or have you just decided we will? Is it necessary to beat up suppliers for that last bit of profit? Couldn't healthier and more mutually beneficial relationships be formed?
There was one bit of good retail news this week. Sales of fresh fruit and veg are up 5%, possibly as part of a new year health kick. Whether this will survive beyond Easter is another matter.
The supermarkets are still too powerful, and shoppers are still wasteful. Piles of dumped food tell us at least one thing: our attitude to and relationship with food is still not healthy. Something is rotten. It's probably the courgettes.