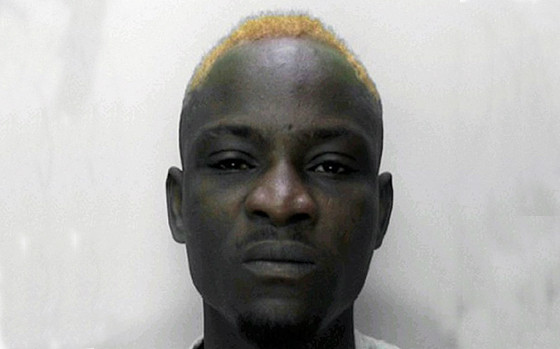 Jamiv Usman launched the knife attack after the 19-year-old woman refused to bring him a glass of water.
The woman, who has not been named, was attacked so savagely that the tip of the eight-inch blade snapped off in her neck.
Despite the injuries to her chest and neck, which included two punctured lungs, the woman survived by playing dead and then crawling onto an empty bus near her home in Brighton, East Sussex.
The driver alerted police and drive to the bus depot. Police officers helped to treat a life-threatening wound to her neck before she was taken by paramedics to the Royal Sussex County Hospital, Brighton.
Her two-year-old son was found by a neighbour, in a distressed state.
Usman, 32, was arrested and charged with attempted murder. He denied the charge at Lewes Crown Court on 20 July but was found guilty and was jailed for 20 years on 16 September.
Detective Inspector Andy Wolstenholme of Sussex Police said: "This was a horrific unprovoked attack on the victim who had to fight for her life in front of her child who was just two. It is a miracle she survived.
"The last 16 months for her have been very difficult but she has been recovering slowly and has demonstrated great courage at the time of the attack, as well giving evidence during the trial. She has been very supportive of our investigation. She is an inspiration.
"I also want to praise the bus driver for having the presence of the mind to drive the victim away from the scene and to get her help.
"The sentence means Usman will be in prison for many years, preventing other victims suffering this level of violence at his hands."