Horrifying footage has been released showing the moment a police who had been shot at several times asking a dispatcher to "tell my family I love them" in what he believed would be his final words.
Estill Police Officer Quincy Smith managed to survive after being shot four times while on patrol in the small town in South Carolina 1 January 2016.
Smith was responding to a call that a man dressed in camouflage clothing and a red bandana tried to steal food from a convenience store. After spotting a man matching the description, Smith got out of his car and ordered the suspect – later identified as Malcolm Antwan Orr – to stop.
Footage filmed on a $30 (£23) camera for his glasses, which Smith personally bought himself, shows the officer repeatedly asking Orr to stop walking away and take his hands out of his pockets.
Orr continues to ignore the officer and does not even take his mobile phone away from his ear, even after Smith threatens to Taser him.
Eventually, Orr takes out a gun and fires multiple shots at the officer, sending him to the ground before he manages to flee to his car.
The footage shows Smith's bloodied hands while he calls for back-up and informs dispatches that he has been hit. A passer-by then comes to stay with him until the emergency services arrive, before Smith adds: "I am hit. I am hit in my neck some place. Dispatch, please tell my family I love them."
The shocking footage was released after Orr was sentenced to 35 years in jail, being found guilty of attempted murder and possession of a weapon during the commission of a violent crime.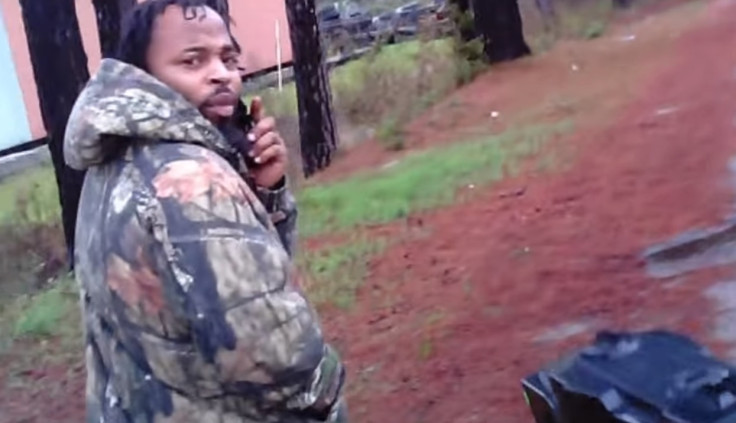 14th Circuit Solicitor Duffie Stone, who prosecuted the case, said: "If but not for the grace of God and some very good doctors, this would not only have been a murder case, but a death penalty case."
Stone described how Smith was fired upon "not once, not twice, not three times, or four, or five, or six, or seven, but eight times" during the shooting, which left the officer with broken arm bones and a "life-threatening" neck injury.
At least two of the eight rounds were fired while Smith was lying on the ground and another two were fired as Smith ran for cover.
The jury at Hampton County Court spent just 45 minutes deliberating before finding Orr guilty on all charges.