Tesla has outright denied claims that its factories are a "hotbed for racism", as described in a lawsuit by former employee Marcus Vaughn.
In a blog post on the company's website, the lawsuit and ensuing stories are described as a "hotbed of misinformation".
The post also denies claims that Tesla does not take complaints of discrimination and harassment seriously. "When we hear complaints, we take them very seriously, investigate thoroughly and, if proven to be true, take immediate action."
Vaughn filed a lawsuit in the California state court on Monday (13 November) after being sacked in October for "not having a positive attitude".
Vaughn alleges he was let go because he made complaints about racism and that he was repeatedly called "n***r" by supervisors.
"Although Tesla stands out as a groundbreaking company at the forefront of the electric car revolution, its standard operating procedure at the Tesla factory is pre-Civil Rights era race discrimination," Vaughn's complaint to the court reads.
But Tesla says there is another side to the story. "At the time, our investigation identified a number of conflicting accusations and counter-accusations between several African-American and Hispanic individuals, alleging use of racial language towards each other and a threat of violence. After a thorough investigation, immediate action was taken, which included termination the employment of three of the individuals.
Tesla also outlined every allegedly false aspect of Vaughn's lawsuit. It said Vaughn was acting alone (he claimed he was representing 100 people), that he was employed by a temporary-agency (not by Tesla), and that he was not fired as his six-month contract had just come to an end.
According to Bloomberg, Vaughn referenced an email to employees from founder and chief executive Elon Musk in his complaint. "Part of not being a huge jerk is considering how someone might feel who is part of a historically less represented group," Musk's email reads. "In fairness, if someone is a jerk to you, but sincerely apologises, it is important to be thick-skinned and accept the apology. Sometimes these things happen unintentionally, in which case you should apologise."
Tesla released the email in full via the blog and said it was meant to ensure all employees do the right thing: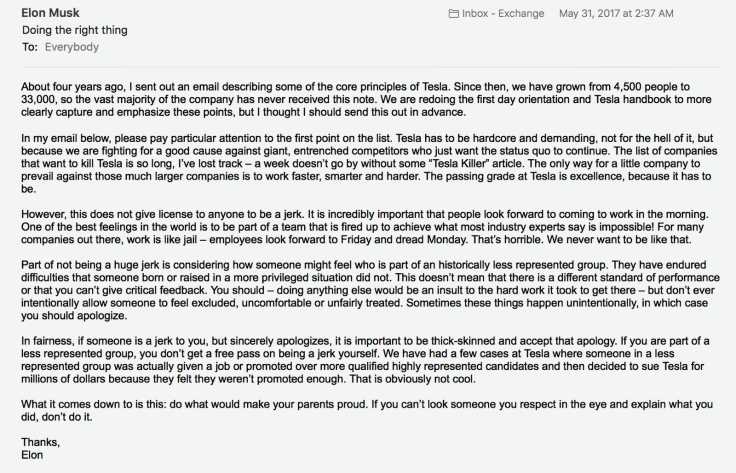 Tesla employs 33,000 people worldwide, 10,000 of which work in the Fremont factory where the allegations spawn from. "It is not humanly possible to stop all bad conduct, but we will do our best to make it as close to zero as possible," the post reads.
Tesla has previously battled lawsuits alleging the company discriminates against homosexual and elderly workers. Tesla has categorically denied these allegations. In July, female workers labelled the work site in Fremont as a "predator zone".