The First Baptist Church in Sutherland Springs, Texas, has opened a week after the mass shooting that left 26 people, including an unborn child, dead.
On Sunday (12 November) evening, the small-town church, which has now been transformed into a memorial, welcomed the public. The walls, the ceilings and the pulpit have all been painted completely white as a tribute to the victims of the shooting. Broken windows and ceiling tiles have also been replaced and bullet holes filled.
Everything has been changed inside the premises and all that remains is 26 empty white chairs in the spots where the victims were sitting during the last Sunday service when the deadly attack happened, The Daily Mail reported.
People who visited the church also found each of the chairs adorned with a single red rose with the name of the deceased inscribed in gold. A chair with a pink rose was also placed in memory of an unborn baby of a victim who was pregnant.
Mark Collins, a previous pastor at First Baptist, said constructing the memorial wasn't an easy decision as some members were not in favour of the idea, while some wanted to revisit the site.
Meanwhile, it was reported that in the wake of the tragic shooting, parishioners of the church have decided to demolish the structure. Pastor Frank Pomeroy, who lost his adopted daughter in the attack, said leaders of the Southern Baptist Convention collectively made the decision to demolish the church, after it was deemed too painful to continue using the building as a place of worship.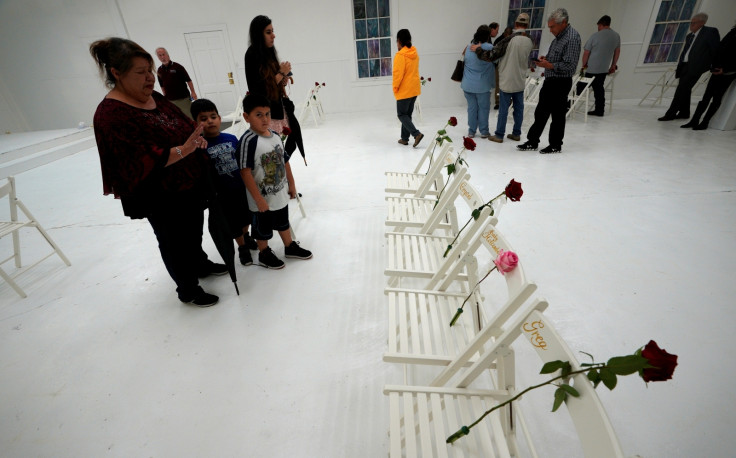 The pastor described the building as "too stark of a reminder" of the massacre and expressed hope of putting up a new building on property the church owns.
Devin Kelley walked into the First Baptist Church on 5 November with an assault rifle and opened fire, leading to the carnage. He then fled the church in a vehicle, but was killed. However, it remains unclear whether he was shot dead by police or by an unnamed man who chased him down.
Texas Governor Greg Abbott called the tragedy the largest mass shooting in the state's history.