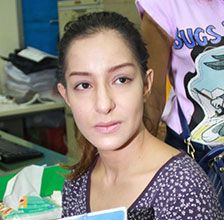 Thai actress Anna Reese has been charged following a car crash that killed a policeman in Bangkok in the early hours of Friday.
The 28 year old actress and model, whose real name is Anna Hambawaris, was charged with reckless driving causing. She was driving a Mercedes-Benz sedan when it collided with a parked police car along the motorway in Prawet, killing Napadol Wongbandit, a 44 year old inspector.
Hambawaris told the press that she was not under the influence of alcohol as some news reports had suggested, Bangkok Post reported.
She claimed that a motorcycle had cut in front of her car while she was travelling at about 100km per hour, causing her to lose control of her vehicle and ram into the parked police car. She said she then got out of her car to check on the other vehicle and was shocked to see a dead man inside it.
She contacted relatives who rushed to the scene. On finding that she had injured her left arm, they drove her to their house. After her arm was treated, she contacted the police to surrender, she said.
"I feel sorry for what happened and am willing to help the family of the victim. Once the case has been finalised I want to go into meditation to calm my mind."
The newspaper said initial tests revealed no trace of illegal drugs in her body and the results for alcohol in her blood would only be known in seven days, according to the police.
According to Coconuts Bangkok, the police squad car rammed into a tree along the road when the actress hit the vehicle.
It said a security guard who witnessed the incident claims that he saw the Mercedes speeding alongside a big motorbike and that they appeared to be racing.
The actress has appeared in movies such as 'Legend of the Tsunami Warrior' and 'Brown Sugar 2'.