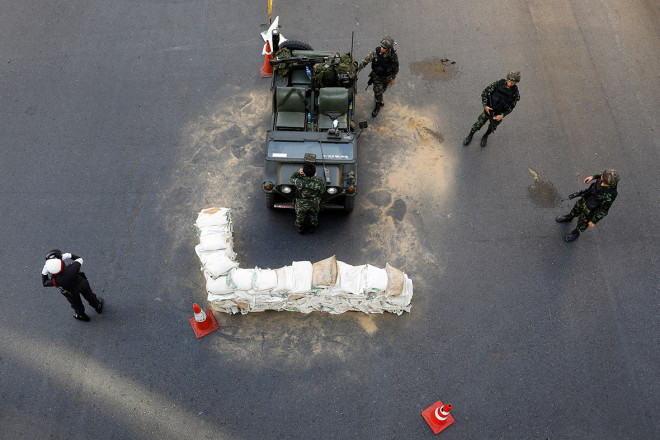 Thailand's army said its decision to impose martial law in Thailand is not a coup but an attempt "to restore law and order".
The move comes after months of violent clashes between the government and opposition protesters, which date back to 2006 when Thaksin Shinawatra was ousted as prime minister in a military coup. Since then the country has undergone a series of often violent anti-government protests with the latest starting late last year when protestors blockaded streets in the capital.
Although the current government said it was not informed of the army's latest move, acting prime minister Niwatthamrong Boonsongphaisan says his government remains in charge of the country.
The UK's Foreign and Commonwealth Office (FCO) has issued updated travel advice for people visiting Thailand.
A statement from the agency said: "Protest action in central Bangkok since January 2014 has caused significant disruption to roads in affected areas, with knock-on effects across the city... You should take extra care and avoid all protests, political gatherings, demonstrations and marches."
Advice to tourists during periods of martial law
Avoid protest areas
As rallies are expected to continue in Bangkok and elsewhere in Thailand, during the daytime and at night, avoid areas where demonstrations take place.
Some rallies have been violent with protesters and police using firearm and grenades, causing casualities and deaths.
In Bangkok, the main protest sites are at Ratchadamnoen Avenue and the government complex at Chaeng Watthana. There are also sporadic rallies in government offices and private companies.
The (FCO) advises against all but essential travel to the provinces of Pattani, Yala, Narathiwat and Songkhla on the Thai-Malaysia border; to the Preah Vihear (Khaoi Pra Viharn in Thai) temple area and the Ta Krabey/Ta Moan temple area located on the Thai-Cambodian border.
Stay informed
Keep a close eye on the media to monitor the developments; however, bear in mind that the Thai army has also imposed censorship for "national securities" purposes.
The Tourism Authority of Thailand (TAT) is still reporting about upcoming festivals, and local media have not yet mentioned martial law.
Take extra time for travelling
Due to the increased military presence in Bangkok and neighbouring provinces with some roadblocks, allow extra time for journeys, including to the Bangkok airports. Should the unrest escalate further, keep in mind that airlines may cancel some flights.
Find a Tourist's Friend Centre for assistance.
The centres are located at the Sport Authority of Thailand in the Bangkapi district of Bangkok, Suvarnabhumi and Don Mueang airports, four BTS Skytrain stations (Siam, Phya Thai, Ekkamai and Wong Wian Yai) and Hua Lampong MRT station.
You can contact them by telephone on +66 (0)2 314 1212 (in English – 24 hours).