Saudi Arabia's state-owned oil and gas company Aramco's plans for a partial stock floatation is being dubbed the mother of initial public offerings (IPOs), with some analysts assigning dizzy valuations to the company despite oil markets going through a lacklustre phase.
Riyadh is planning to sell no more than 5% of the company, and based on different methodologies, some if not all, value the company at $2tn (£1.6bn). Unsurprisingly, all major stock exchanges in the world are attempting to woo the Saudis, with London, New York and Singapore at the front of the queue of suitors.
In February, Riyadh surprised the market by choosing New York-based boutique bank Moelis & Co as an IPO adviser. This was quickly followed by the appointment of JPMorgan, Morgan Stanley and HSBC to conduct preliminary work for the listing.
Last month, the Saudi government lowered the taxation rate for Aramco from 85% to 50% to make it more appealing to international investors in a bid to get the highest possible valuation.
While Tadawul, the Saudi Stock Exchange, would get the primary domestic Aramco listing slated for 2019, lobbying for the secondary international listing has intensified with the London Stock Exchange's chief executive Xavier Rolet drafting in none other Prime Minister Theresa May, who is on a state visit to Riyadh, to put a good word or two in.
True to form, May met with Saudi energy minister Khalid Al-Falih, who also officiates as Chairman of Aramco, and Sarah al-Suhaimi, chief executive officer of the Saudi Stock Exchange, on Tuesday (4 April) and made a case for the LSE.
On Wednesday, the PM also met officials from the Saudi Public Investment Fund – Riyadh's sovereign investment vehicle – which will be the beneficiary of Aramco IPO proceeds, as part of Deputy Crown Prince Mohammad bin Salman's Vision 2030 programme of radical economic diversification away from a reliance on oil and gas.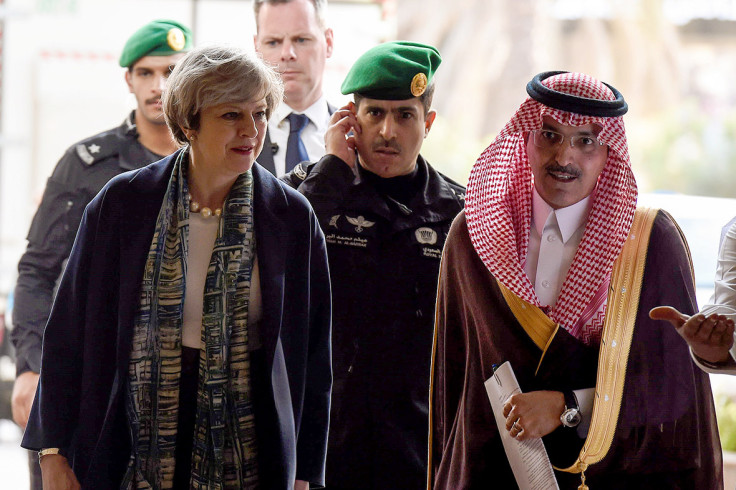 Sources in Riyadh suggest May and LSE's Rolet are trying to allay Saudi officials' concerns about a depreciation in the value of the pound, with the UK set to exit the European Union in March 2019, close to the time Aramco is expected to make its market debut.
A Downing Street spokesperson told IBTimes UK the PM had "set out the advantages of listing on the London Stock Exchange" as well as the "depth of expertise" London can bring to the table as a global financial hub.
If the May-Rolet duo succeed in convincing the Saudis, it would also be seen as a major political and financial coup, given the UK's current mantra of wishing to become a global player, alongside and in spite of the Brexit negotiations, says Richard Hunter, Head of Research at Wilson King Investments.
"Furthermore, for the LSE to be successful, would be a major fillip to prospects, particularly given the recent disappointment of the Deutsche Boerse merger collapse."
May's articulation of London's obvious advantages compared to New York, its main rival for Saudi attention, and the likes of Singapore, Hong Kong, Tokyo and Toronto, would not be lost on high ranking officials in Riyadh, opines David Buik, veteran market commentator at Panmure Gordon.
"The way I view it, for Aramco to list in London would be a huge fillip for the City of London as well as Aramco's financial well-being! There is no more professional place for a listing than the LSE. Furthermore, London is at the heart of international business in terms of time zone, experience and professional support and advice, an advantage it has over rivals. Finally, legal and accountancy advice in London is the finest in the world."
Aramco, which is currently at the heart of Saudi implementation of Opec's oil production cut, has a potential oil production capacity of 12m, with 270bn barrels in recoverable reserves.
If a $2tn valuation is ultimately realised, Aramco would beat the current valuations of the world's largest publicly traded companies Apple ($720bn), Google ($585bn) and Microsoft ($500bn), and the world's largest oil and gas company ExxonMobil ($340bn) several times over.