Has internet-connected fridge replaced the flying car as the definitive status symbol of a far-off future? For decades the flying car has been at the top of futurologists' wish lists, but has never caught on. So too, the internet fridge appears at the CES technology show in Las Vegas every year, draws crowds, wows them, then never quite makes it beyond the Harrods technology department, opposite the 100in televisions and personal submarines.
While LG and Samsung continue with the smart fridge at CES 2017 (some even had a dance routine, we kid you not), Panasonic took a different approach. The company showed off an entire smart kitchen – but instead of filling it with gimmicks, the whole experience felt like it was just a year or two away from reality.
Wine cellar with a different temperature for each shelf
First up is a saké and wine cellar. Although not actually an underground room, this 'cellar' is a cupboard that can be set to offer a different temperature and humidity for each shelf.
This way, white wine, red wine and different types of saké can be kept in the right conditions. The glass door features an embedded computer screen (a theme of this kitchen) that can be configured to display information and pairing suggestions for each drink stored inside.
Such screens, which switch from transparent to showing text and even HD video at a tap, are also featured at either end of the room. One by the kitchen can be used to show recipes and video instructions presented by top chefs, while a second at the dining end of the room can act as a television or be set to display any images or video you choose.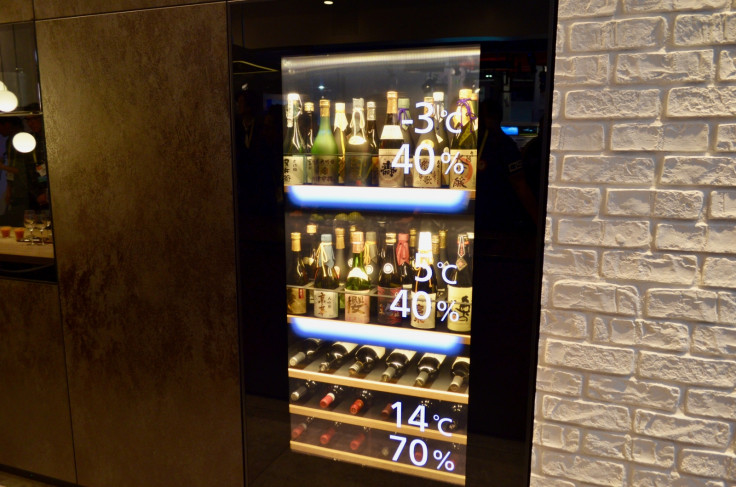 Induction heating - on the hob and the dining table
Induction heating is nothing new, but here Panasonic has fitted it to both the kitchen work surface and the dining table. The work surface is covered in heat elements with pressure sensors to make sure they only heat up when the weight of a pan is detected. Chopping boards and other equipment are ignored, meaning your hob can be as large or as small as you need it to be.
Working in sync with the rest of the kitchen, the hob adjusts its heat depending on the status of any other appliances being used to ensure each aspect of your meal is ready at the right time. A camera with image recognition technology is installed in the extraction hood above the hob.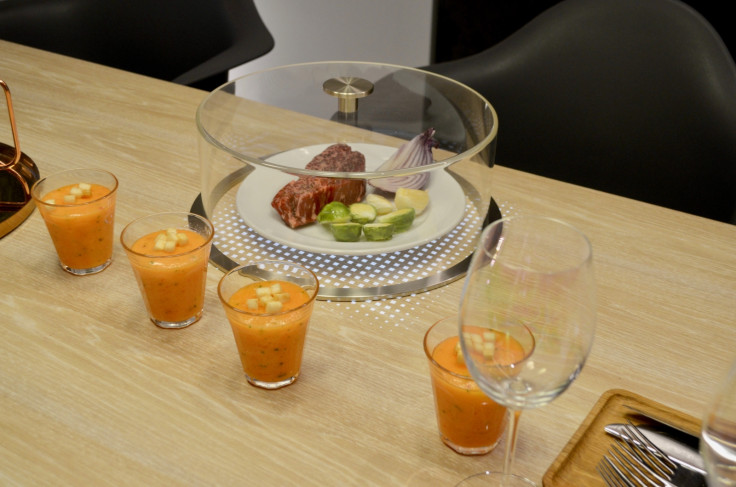 Alternatively, if a meal only needs heating up (or you want to keep a dish hot while guests are eating), the dining table includes the same inductive heat technology. Special dining plates and serving dishes let the elements know when to heat up, keeping food warm as you eat.
Data capture and video recording
Data captured by the camera is cross-referenced against the recipe and used to adjust the heat accordingly. The camera can also record each meal to keep a log of each new recipe you create, while a second camera above the dining area can snap photos on command as you entertain your guests.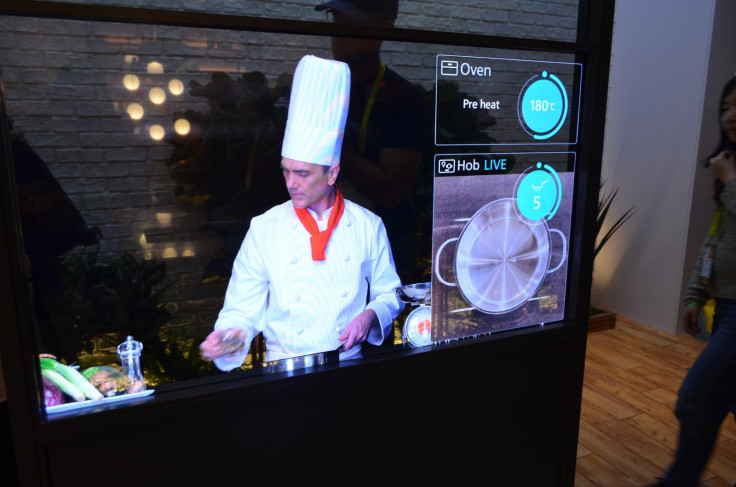 Some of these features may sound like gimmicks (like taking photos of your dinner parties), but a demonstration seen by IBTimes UK felt convincing. We can see real value in the induction heating on both surfaces, while the glass panels that become televisions would surely impress anyone, and the wine cellar is undoubtedly the perfect kitchen gadget. Panasonic is yet to announce a price or release date for any of these appliances, but we can't imagine they are much more than a year from becoming a reality.