Its the last day of April 2016 and we have had quite a few exciting apps released on the Google Play Store for Android devices. While Miitomo dominated the Play Store last month, this month has been popular for a lot of utility apps.
IBTimes UK gives you a low-down on some of the must have apps on your Android device from April 2016.
LinkedIn Students
LinkedIn, the social network for professionals has introduced LinkedIn Students, a new app dedicated to helping students land their first job out of college, which may be helpful to students who are graduating and are on the job search. This app is made to help you pick a career path and get in touch with various alumni, see which companies hire people with your education, and find appropriate job listings.
Students who download the app can sign in with their existing LinkedIn account or create a new one and submit their school, major and graduation year to start their search.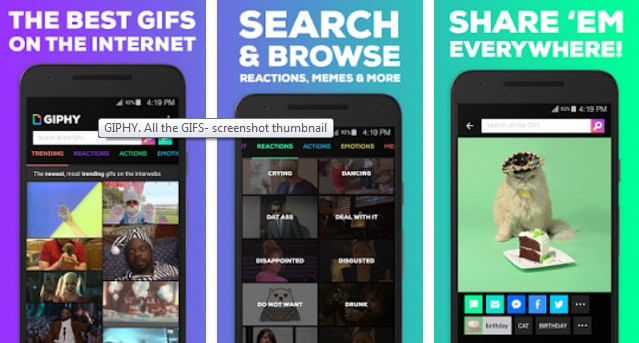 The trend of GIF's is just not stopping with more and more social media platforms lending support to the image format. Through the Android app for Giphy you can access the world's largest library of animated GIFs directly from your mobile phone. It is fast and the simplest way to search and share GIFs across all of your favourite social channels.
This is a dictionary app which goes beyond just finding the meaning and synonyms for words. Linguee translates between a number of languages, with quick tools for searching and most importantly works offline. The dictionary has been compiled by over 400 lexicographers in order to be capable of providing answers to the most difficult of queries. Plus all of the dictionary entries have been recorded audibly by professional speakers
Boost+ from HTC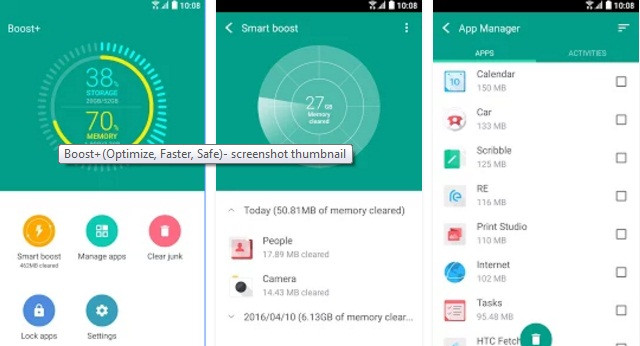 HTC announced this device cleaning app similar to CleanMaster with the launch of the HTC 10. It is basically a security monitor and storage junk cleaner — something that we have seen in the past as a stock option on mainstream Android smartphones.
Boost+ can be set up to notify one when an app hasn't been used for a certain period of time. If you are trying new apps but not using them often, then this could be a great tool to delete the ones you rarely use. HTC decided not to keep it exclusive for HTC consumers but make it public thus putting it up on the Google Play Store for non-HTC users.
Photomath – Camera Calculator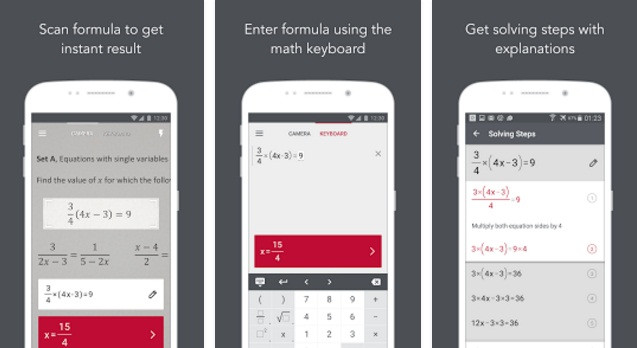 This is a super helpful app for all those maths nerds who find it painful to even find their solution on the internet. Through this, solve maths equations and problems with the help of your camera. Simply point your camera toward a maths problem and Photomath will show the answer with a detailed step-by-step solution which can help you study better without having to switch on the PC or take help from your older sibling.
Photomath supports various maths formats like arithmetic, fractions, decimal numbers, linear equations, equation systems and even the painful logarithms. The app is also useful for researchers who do not want to carry a bulky laptop wherever they go but need to make complicated calculations.
Google Handwriting Input
The very interesting app in the form of a new keyboard option from Google itself allows you to handwrite text on your phone or tablet in 87 languages. Google says the app supports print and cursive, written with or without a stylus. If you draw a smiley face, Handwriting Input will even suggest emojis. The app works either with or without a stylus. Remember that only those Android phones and tablets running on Android 4.0.3 and up can download this app.
This one is for all of those food bloggers. Move over run-of-the-mill Instagram filters as this app is especially made to let click images of food and choose any filter according to your style for your food pictures. It has over 26 customised filters just for taking food photos with a smart guide feature that helps one photograph food from directly above it.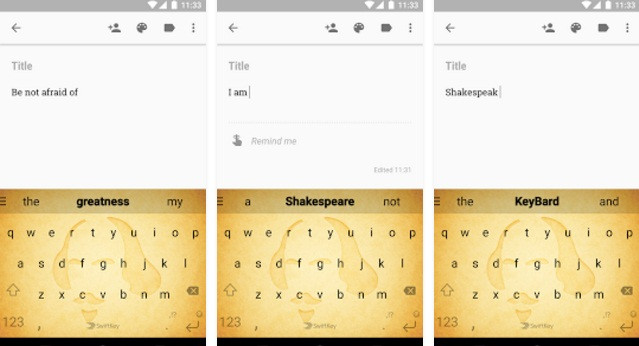 This is for those who love the Shakespearean language so much that they would love to use it in modern day conversations over digital platforms. SwiftKey has rolled out a keyboard update this month that puts the words of the Bard at your fingertips.