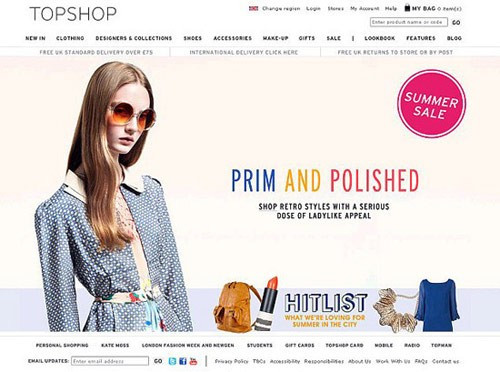 Renowned high-street fashion chain Topshop had everyone talking Wednesday -- and not in a good way.
A painfully thin image of model Codie Young appeared on Topshop's homepage yesterday, prompting public outrage. In response, Topshop removed the image from their site and replaced it with just another, slightly less graphic one of the same model.
Whilst Topshop insisted that the 18-year-old model is a size 8 (U.S. size 6) many said that the images showed the model to be shockingly thin.
Anorexia critics condemned the High Street chain for their insensitivity to the high anorexia problem in the UK, adding that the image coupled with the popular girls' brand would encourage eating disorders. Critics guessed that model Codie Young was a size 0 (UK size 4).
Daily Mail suggested that Codie's large sunglasses were to 'hide sunken eyes - a symptom of under-eating', and that she is pictured wearing size 4 clothing.
Topshop vowed not to represent size zero models, following unfortunate cases of models dying of starvation under the pressures of competing in fashion shows.
Topshop model Kate Moss also sparked controversy in 2009 after she said in an interview that she lived by the motto: "Nothing tastes as good as skinny feels."
Although Young, who is signed to model agency Viva spoke out on her blog denying accusations of being anorexic, there is no escaping the fact that most people when seeing image automatically feel concerned.
She stated on her blog 'I am naturally skinny, as my dad is 6ft 5in tall and skinny, and my mum is also skinny. Throughout my entire childhood I was called anorexic and people would ask if I was bulimic. You know what, some people are just naturally skinny and even if I tried to put on weight it wouldn't matter, because it doesn't matter what I eat, I don't put it on. I love food.
Yes, she claims she is naturally skinny and Vogue Australia editor-in-chief Kirstie Clements has now defended Young, saying: "That is her natural body type. Codie is a very rare kind of beauty."
But in the main, the image of her vacant expression coupled with her super slim body prompts alarm.
Other observers also pointed out that because Topshop also makes size 4 clothes available; they are again implying that it's acceptable and healthy to be that size.
With numerous references made to Young's measurements, a Topshop spokesman saying she's 5ft 10in, spokesman Andrew Leahy stating she is ''a size eight'' and Young herself saying ''yes okay I maybe an American size 0-2 and a UK size 8 so what.'' The sad truth is her promotions are ideal for any model in todays' day and age.