Toronto Mayor Rob Ford Diagnosed with Tumour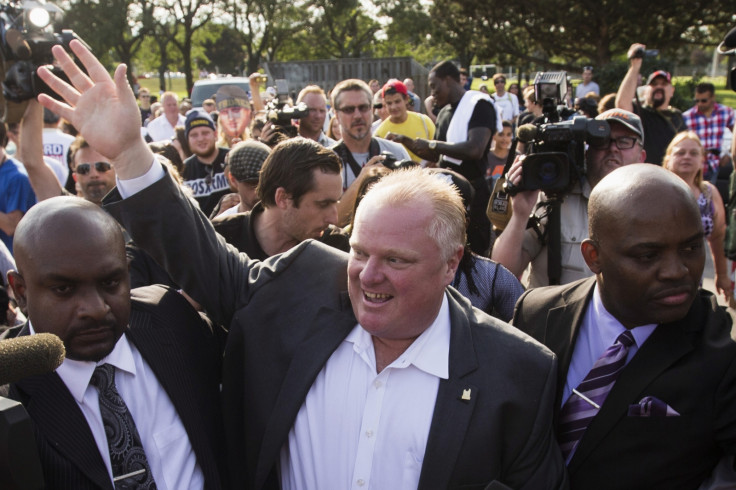 Embattled Toronto Mayor Rob Ford has been taken to hospital with a suspected tumour after months of strong abdominal pain.
Ford, who is seeking re-election on 27 October despite drug and alcohol scandals, said the pain lasted for at least three months but got worse in the last 24 hours.
A statement from Humber River Hospital said that further examination had been agreed on a tentative diagnosis of a tumour. Dr Rueben Devlin said Ford was admitted to the hospital when the pain became unbearable for him. The type of tumour will be assessed with a biopsy. It is unclear how long Ford will remain in the hospital.
The mayor's brother, councillor Doug Ford, said Rob was in good spirits and refused to release comments about the status of his election campaign.
The latest opinion polls showed that Ford had gained ground to be re-elected in Canada's largest city and was closing in on the front runner, John Tory.
Ford made world headlines for his problems of drug and alcohol abuse, since his campaign for re-election started. He returned to work at the end of June after a two-month rehab stint that followed his confession to using crack cocaine as well as "every drug you can probably think of".
New revelations concerning Ford's erratic behaviour were published in Canadian media following a freedom of information request.
According to internal documents from the board of the Don Bosco Catholic Secondary School obtained by the Toronto Star, Ford allegedly made players of the school football team "roll in goose scat" and once threatened to beat up a teacher.
Ford, who volunteered as coach, was fired from the job last year after reportedly making disparaging remarks about parents and their children.
The players were allegedly punished after a poor performance. However, one of them disputed the claims saying Ford gave them a choice between running and rolling on the dropping-littered grass and they opted for the latter.
© Copyright IBTimes 2023. All rights reserved.