UK video game chain Game has apologised to customers after a lorry loaded with copies of upcoming Wii U shooter Splatoon was stolen, meaning some won't be receiving their copy in time for the game's release on Friday (29 May).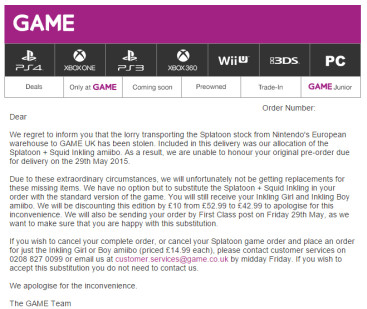 In a statement issued to customers and shared online (including on NeoGAF) Game says: "We regret to inform you that the lorry transporting the Splatoon stock from Nintendo's European warehouse to Game UK has been stolen. Included in this delivery was our allocation of the Splatoon + Squid Inkling amiibo."
Game go on to say that due to the "extraordinary circumstances," they won't be getting replacement stock of the special edition including the amiibo figure, and so will be replacing those orders with the standard edition.
An amiibo figure is still promised to these customers.
"We will be discounting this edition by £10 from £52.99 to £42.99 to apologise for this inconvenience," they added before saying that replacement orders will be sent via First Class post on Friday 29 May.
Game also offered contact details in case affected customers want to cancel their orders. They can call Game's customer services on 0208 827 0099 or email them at customer.services@game.co.uk by midday on 29 May to cancel in time.