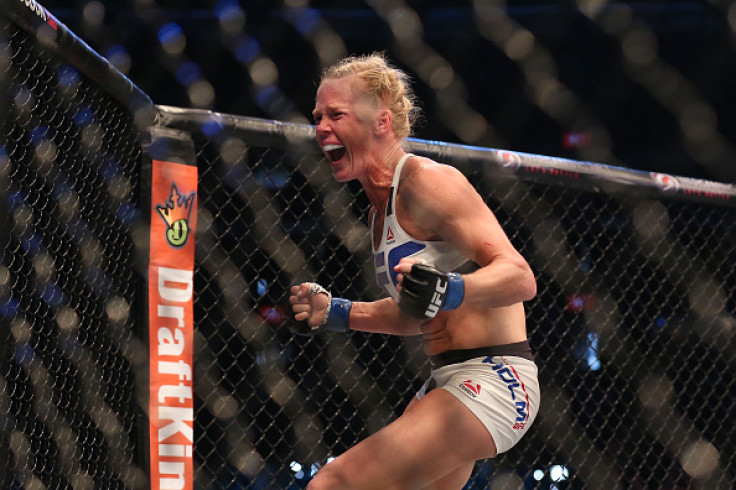 Holly Holm admits that Ronda Rousey's 48-second knockout at the hands of Amanda Nunes at UFC 207 was a result of Rousey's first UFC brutal loss against her in November 2015.
The California native was knocked out with a head kick in the second round of her Ultimate Fighting Championship (UFC) women's bantamweight title fight against Holm at UFC 193 in 2015 which saw her take a 13-month hiatus from the sport before returning on 30 December to face Nunes in Las Vegas.
Rousey's return lasted just 48-seconds when she was punched out by the Brazilian fighter and Holm believes it was because she was 'second-guessing' herself during the fight due to her earlier knockout.
Mike Winkeljohn believes that Rousey was 'broken' by Holm during their encounter. While, Holm does not agree completely with her coach's assessment, she believes the fight with Nunes would have lasted longer if they had fought ahead of her and Rousey.
"Here's what I think about that. Coming off a knockout, Ronda or anybody else - I'm not saying it's just her, it's just fighters - you come off from a knockout. It is very, very hard mentally and emotionally," Holm said of Rousey's fight against Nunes, as quoted by mmafighting.com
"You second-guess yourself. I remember when I got knocked out, every time I would spar for the first two weeks, every time I would get hit, I would be like, am I OK? Yeah, I think I'm OK. Am I OK? Yeah, I think I'm okay. You really second guess yourself a lot."
"If her and Nunes fought before Ronda and I fought, I do feel like that fight would have gone longer than it did, I really do. I know she had a year off but it was a year off and back into a title fight. I don't know how much she changed in there with training. I don't know.
"I think any fighter they can only know for themselves what they really feel, but I guess I don't really feel like I broke her, but I do know that coming off of the knockout, when I knocked her out, that helped the fight with Nunes go faster if that makes any sense. I don't mean that in any rude way," the former UFC bantamweight champion explained.
Holm is keen to get out of Rousey's shadow and wants to prove that her career in UFC is more than just one fight – which saw her become the person that ended the winning run of the longest reigning women's bantamweight champion.
The 35-year-old Albuquerque-born fighter has the chance of creating her own legacy when she takes on Germaine de Randamie in the inaugural bout for the newly created women's featherweight title at UFC 208 on Saturday (11 February).