Uganda is setting an example to the world on how to handle a refugee crisis
Uganda hosts more refugees than any other country in Africa as thousands flee South Sudan's war every day.
An eight-hour drive from Uganda's capital Kampala is Bidi Bidi, a village hosting what this April became the world's largest refugee camp, giving shelter to 270,000 people.
Three months later, the number of refugees stands at 272,168, with Ugandan officials expecting it to increase to 300,000, due to family reunions and new births.
Driving through the 250-square-kilometre settlement, it becomes apparent that this is no ordinary refugee camp. It is nearly impossible to distinguish refugees from locals as they both live next to each other, shop at the same markets, go to the same schools and receive treatments at the same health facilities.
Uganda, which the UN said it is now hosting "more refugees than any other country in Africa", is home to nearly 1.3 million refugees from 13 countries. Of these, at least 950,000 are South Sudanese.
The government, in partnership with NGOs on the ground, assists refugees by, among other services, providing them with food and life-saving assistance, as well as a plot of land where they can rebuild their new life.
"This has provided a high degree of safety and stability for refugee populations, while allowing the Ugandan government to benefit from international funds for refugee protection," Phil Clark, analyst on the Great Lakes region and reader in international politics at Soas University, told IBTimes UK.
"The Ugandan government has also benefited substantially from the infrastructure that remains when refugee camps are closed, for example schools, clinics, roads and marketplaces."
In June, Kampala and the UN appealed for $2bn (£1.5bn, €1.7) in funding to cope with what the UN dubbed as Africa's worst refugee crisis of current times. Although the appeal has been met with a positive response – including €85m pledged by the European Union – it has failed to reach its target.
Yet, Uganda has kept its borders open.
Officials and humanitarian organisations say thousands of South Sudanese continue to cross into Uganda every day as there is no sign that warring sides in the neighbouring country will lay down arms any time soon.
World Vision, one of the charities helping the government cope with the refugee influx, has so far reached 700,000 refugees in five districts across northern Uganda. Among other projects, the organisation helps children cope with trauma caused by war and abandonment, aiding them to build their new lives in the host country.
"At the moment we are still in the emergency phase and we are looking at things like feeding people, but longer interventions need more money," Judy Moore, World Vision's Response Director in Uganda, told IBTimes UK.
"We need a lot of assistance from the public, people in countries such as the UK are very generous, but World Vision and other agencies need more to help the future generation."
'We have been receiving refugees since World War II'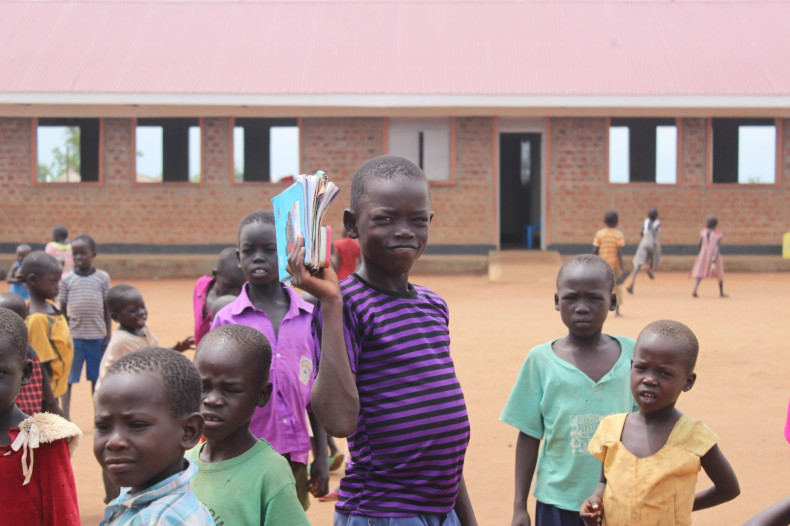 In spite of the huge influx of refugees and the depletion of local resources, Uganda's economy has kept growing, although at a slower place.
The World Bank said the country's economic growth is threatened by factors including regional instability and climate change, but it is still "expected to grow at 4%–5% during [financial year 2017]." The rate is expected to increase to 5.1% in 2018, and an average of 5.6% in 2019.
Furthermore, hosting 1.3 million people from a variety of countries where religion and culture are different has rarely resulted in tensions between refugees and the hosting community.
Officials attribute these successes to Uganda's long history of welcoming refugees and the humane treatment given to them.
"We have been receiving refugees since World War II, when the Polish refugees settled here in Uganda," Dennis Mbagatu, from the Office of the Prime Minister department of refugees and settlement commandant at Impevi, told IBTimes UK. The settlement opened in February 2017 and is currently hosting 125,000 refugees.
"We receive refugees as they come, we provide facilities and refugees are allowed to go where they want, their movement is not restricted," Mbagatu continued.
Robert Baryamwesiga, from the Office of the Prime Minister department of refugees and settlement commandant at Bidi Bidi resettlement camp, believes Uganda's refugee policy is "the best model for the whole world".
"Refugees are humans and must be protected from dangers and be allowed to work, move, worship and be offered an environment where they feel at home. This is what Uganda is offering," he said.
According to Clark, other African countries – particularly Tanzania – have adopted similar policies, which, however, have failed to be implemented overseas.
"Australia, the UK and nearly all European countries except Germany - which have some of the most restrictive refugee policies anywhere - could learn a great deal from countries like Uganda and Tanzania. In particular, the message that refugees are assets rather than a problem should be heard around the world," he said.
Strain on local resources and funding shortfall
Uganda has become a beacon of inspiration due to its open refugee policy at a time where other countries have implemented harsh restrictions on immigration and threatened to close their borders.
However, the high refugee influx sparked by violence in South Sudan's capital Juba last July has taken its toll on Uganda's local resources.
Baryamwesiga said Uganda currently needs $1bn as it enters the second phase of its crisis response and works to achieve "minimum standards" of services.
"We need $1bn to construct schools, motorise water systems, build new facilities, staff more people in areas and stabilise the settlements," he said.
Clark believes the government could face some challenges should local communities – particularly in impoverished, rural areas – feel the country's resources are diverted towards refugees.
"Broadly speaking, the benefits of Uganda's open policy far outweigh the burdens. But there is no question that the policy is enormously taxing both for the Ugandan government and for local communities," he said.
"While the government receives most resources for refugee protection from international donors, some funding comes from state coffers, which can be difficult to sustain.
"If communities do not believe they are benefiting directly from the opportunities created by the refugee camps - and if they believe the government is diverting resources to refugees that otherwise would have been used locally - then this could cause tensions," Clark concluded.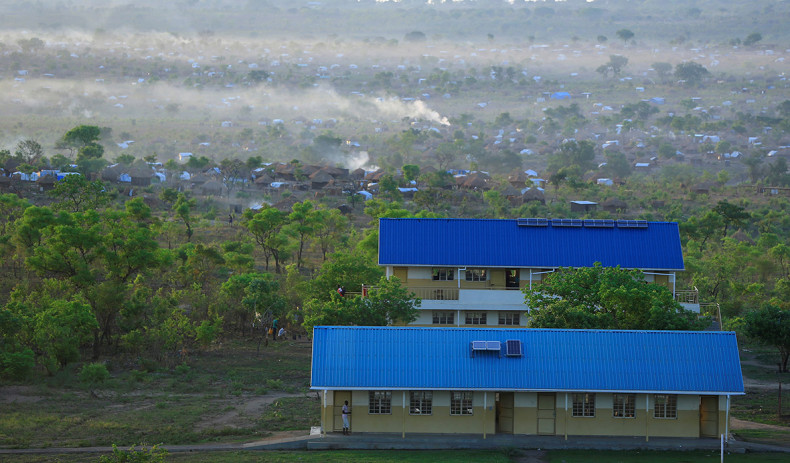 ---
IBTimes UK travelled to Uganda courtesy of Word Vision UK
---