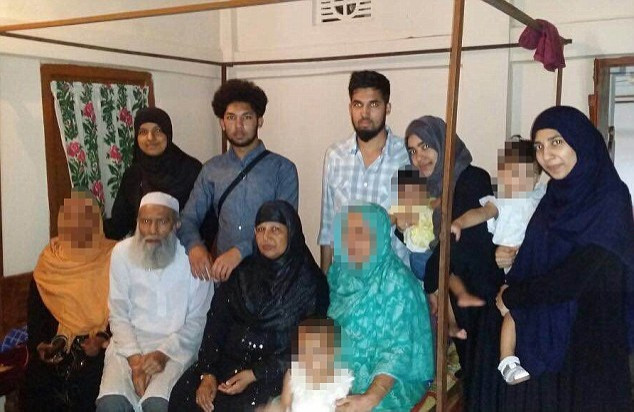 A British family of 12 have released a statement revealing they have gone to live in territory controlled by Islamic State (Isis) Syria, and have called on other Muslims to "rush" and join them.
The 12-strong Mannan family from Luton, have not been seen since 17 May.
The family travelled to Bangladesh via Istanbul on 10 April and flew back to Turkey on 11 May. They were due to fly back to Heathrow three days later, but failed to return.
The statement, revealed by the Daily Mail, says that none of the family were forced to travel to IS-controlled areas "against their will", which was a concern expressed by relatives of the family in an earlier statement.
"Don't be shocked when we say that none of us were forced against our will," it said. "In fact it is outrageous to think that an entire family could be kidnapped and made to migrate like this.
"We call all Muslims to rush to the command of your Khalif. Race to your state. Race to what will give you honour in this life and the hereafter."
A second family from Luton has beenstopped from boarding a flight heading to Bangladesh, according to BBC News.
Two sisters were stopped at Heathrow and their homes searched before they were allowed to continue their journey, returning three weeks later.
The Mannan family includes a 75-year-old man who reportedly has diabetes, his wife who reportedly has cancer, and three children aged between one and 11.
The missing members are Muhammed Abdul Mannan, 75, his wife Minera Khatun, 53, their daughter Rajia Khanom, 21, and sons Mohammed Zayd Hussain, 25, Mohammed Toufique Hussain, 19, and Mohammed Abil Kashem Saker, 31.
Also missing is Saker's wife Sheida Khanam, 27, Mohammed Saleh Hussain, 26, and his wife Roshanara Begum, 24.
In the past two years IS has captured large areas of Iraq and Syria, becoming notorious for a number of atrocities, mass killings and beheadings whilst declaring their land a caliphate in June last year.
An earlier statement released from the family's relatives in Luton said that they were "devastated by the disappearance".
It said: "This just does not make any sense. We can only think they have been tricked into going there, it is no place for elderly or young people."