Ukraine Crisis: Soldiers Open Fire on OSCE Convoy in 'Rebel Provocation'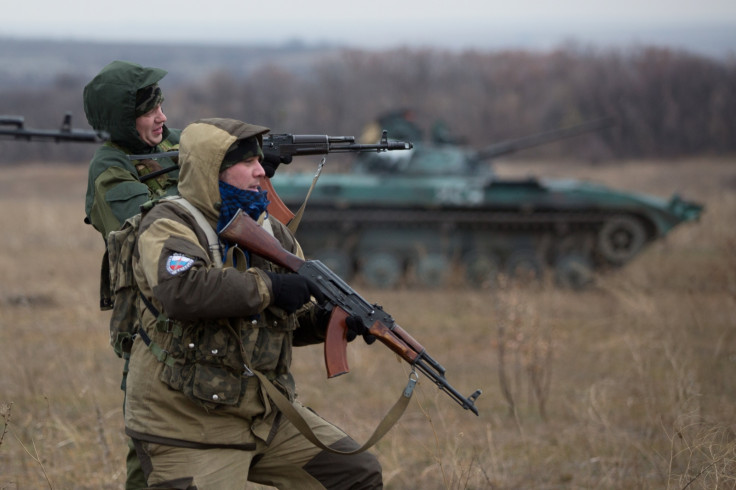 European monitors in eastern Ukraine said uniformed personnel near Donetsk opened fire on two of their vehicles, as the conflict between government troops and Russian-backed rebels threatens to escalate amid reports of military build-ups on both sides.
The convoy was on a routine mission, travelling from the eastern town of Kurakhovo towards the rebel stronghold of Donetsk when it was shot at by a soldier, of the Organisation for Security and Co-operation in Europe (OSCE) said, stopping short of identifying what side was responsible.
"Near the area of Mariinka, about 80m ahead of the convoy, there was a flat-bed cargo truck carrying a large green wooden box, with two uniformed personnel on board wearing helmets," OSCE said.
"One of the soldiers stood up and fired two shots in the direction of the OSCE convoy. The bullets struck about 2m from the second OSCE vehicle.
"The SMM staff travelling in this vehicle heard sharp sounds originating from road or bullet fragments impacting on their car. Due to security concerns, the SMM left the area immediately," OSCE said.
The monitoring group said the truck had two tactical marks of two white vertical lines on the tail-gate.
The distinctive sign was used by the Ukrainian Army but Kiev said it has been changed and is no longer in use.
The government denied the shooters were Ukrainian military, dismissing the incident as a rebel "provocation".
National Security and Defence Council spokesman Col. Andriy Lysenko said government troops in the area operated only in columns and never as single units.
The National Security and Defence Council of Ukraine tweeted:
Separatist rebels are known to have seized a number of Ukrainian military vehicles during fighting in recent months.
OSCE spokeswoman Iryna Gudyma told IBTimes UK the monitoring team was not able to verify which side of the conflict was responsible for the shooting.
"There have been many cases were people wore uniform pretending to be someone else," she said. "We are not speculating on who was shooting".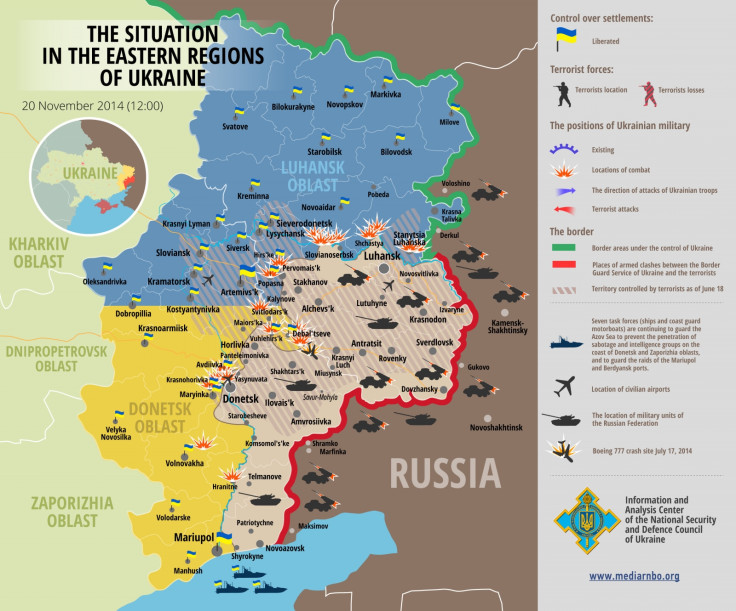 A Ukrainian government map detailing the situation in the restive east as at 20 November.
NSDC
Mariinka - the site of the incident - is inside the government-controlled area. Fighting has been reported there in recent days.
The development came as the UN said more than 250 people have been killed by fighting in recent weeks despite the frail ceasefire agreed in September.
The figure was contained in a report by UN human rights investigators alleging that armed groups committed serious abuses including torture, detention, executions, forced labour and sexual violence.
Such human right violations "are of a systematic nature and may amount to crimes against humanity" the report said.
Earlier this week, Nato accused Russia of violating the September truce by building-up of forces within Ukrainian territory as well as on the Russian side of the border.
"This is a serious military build-up and we call on Russia to pull back its troops," Nato Secretary-General Jens Stoltenberg told Reuters.
Days earlier, Kiev said it was preparing for an all-out war redeploying forces in separatist regions of Donetsk and Luhansk following reports that columns of Russian tanks, artillery, and combat troops had crossed into Ukraine.
Kiev and its allies from Washington to Brussels have accused the Kremlin of fuelling the ongoing conflict in eastern Ukraine, by providing pro-Russian separatists with arms and manpower, as well as financial backing.
Russia has consistently denied any involvement in the conflict in eastern Ukraine, although it has supported the separatist rebels politically.
© Copyright IBTimes 2023. All rights reserved.