US authorities probing the finances of the man once believed to be the world's most powerful drug lord, Joaquín 'El Chapo' Guzmán, have not located "even one dollar" of his illegal fortune.
Prosecutors in New York are seeking the forfeiture of more than $14bn (£10.88bn) from El Chapo - 'Shorty' in English due to his small stature - and his criminal gang, the Sinaloa Cartel.
El Chapo headed the cartel for 30 years and is estimated to have personally pocketed around $1bn trafficking drugs, including cocaine, to the United States.
The 59-year-old was transferred from Mexican to US custody in January, with authorities attempting to recover "drug proceeds and illicit profits".
Mexico's attorney general, Raul Cervantes, told broadcasters Televisa on Wednesday (3 May) that US authorities have not been able to find any of his money.
"As of today, US authorities have not found not even one dollar of El Chapo's assets," he said, according to the Guardian. "His money hasn't been found because he didn't use the financial system."
Guzman, who has escaped maximum security Mexican prisons on two occasions, was head of the largest and most powerful drug syndicate in Mexico, and stands accused of brutal murders and kidnappings.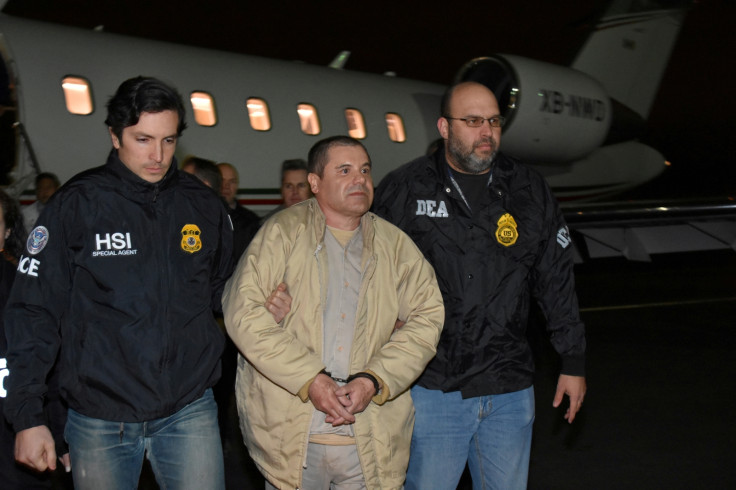 Cervantes appeared after the apprehension of El Chapo's second-in-command, Damaso Lopez, in Mexico City on Tuesday (2 May). Lopez - also known as 'El Licenciado' (the graduate) - was paraded by armoured soldiers outside an upmarket apartment block where he lived.
In 2009, Forbes magazine included Guzman on its list of the world's richest people, estimating he had amassed $1bn. He was removed from the list in 2013 while he was on-the-run, as they could not estimate his worth.
Guzman is charged with a 17-count indictment which includes the forfeiture of the $14bn, a figure based on the cartel's estimated drug sales between 1989 and 2014.
On Friday (5 May), Guzman will appear in Brooklyn federal court to ask a judge to loosen the conditions of his solitary confinement, as he claims his treatment is more restrictive than any other US prisoner.