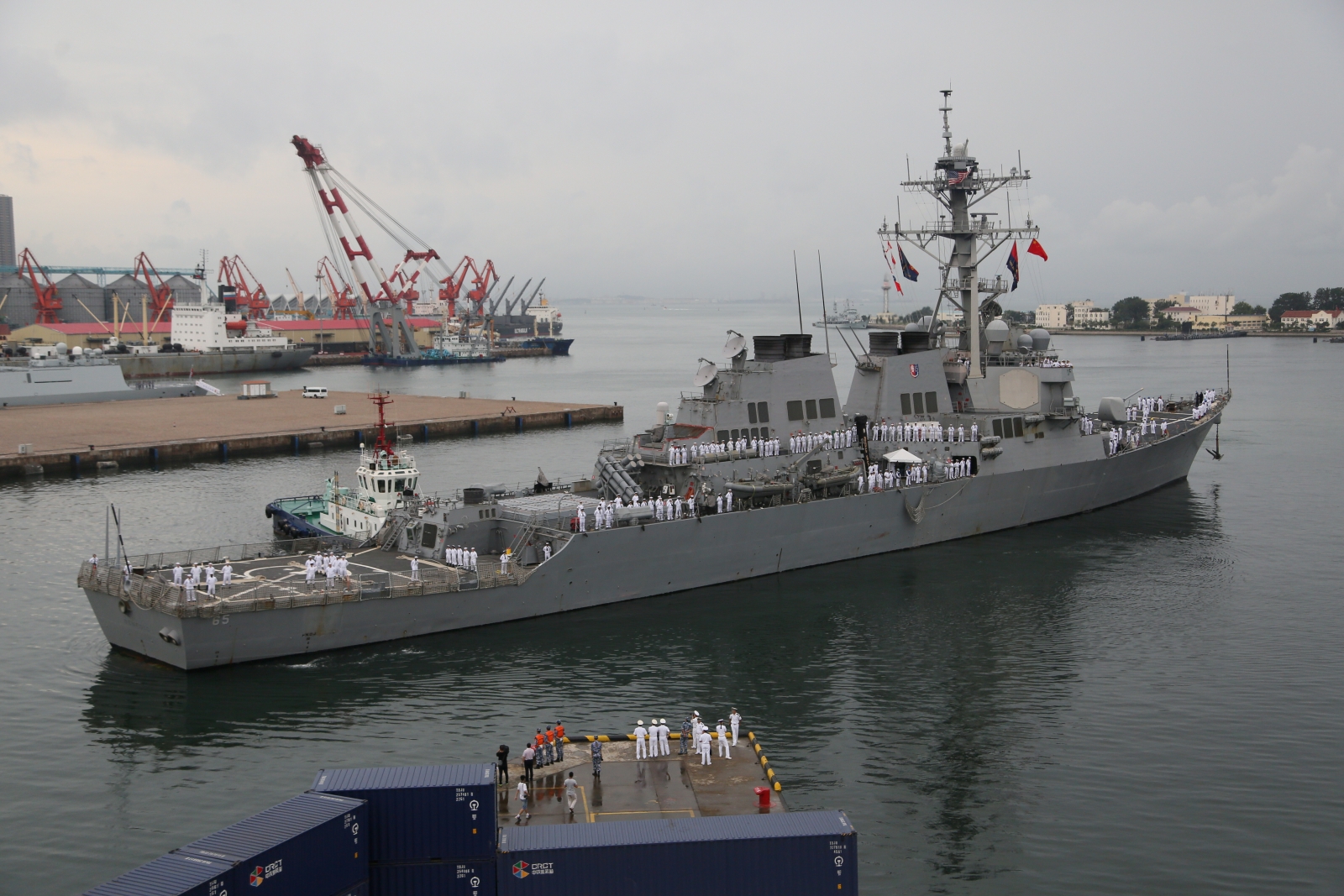 A US warship has made it to Chinese ports for the first time since Beijing unequivocally rejected the arbitration tribunal ruling on the South China Sea territorial dispute. An American Navy guided missile destroyer arrived in the eastern Chinese port of Qingdao in Shandong Province, on Monday (8 August).
The visit is aimed to "build relationships" with counterparts from the Chinese Navy, said Justin L Harts, commanding officer of USS Benfold. Post its arrival, the destroyer held a signals exercise with the Chinese Navy. Speaking to the media from the port of China's northern fleet, the commander referred questions about the South China Sea dispute to Pacific Command in Hawaii, Associated Press reported.
A top US naval officer in Asia, Admiral Scott Swift is expected to address the media on Tuesday in Qingdao.
China's navy has been seen as trying to close the gap with its US rival, both in terms of its fleet numbers and technology, including nuclear submarines and deployment of advanced anti-ship missiles.
China's extensive claims in the hotly contested waters and its expansion of a military base there by holding drills have further increased the tension between the countries.
On 6 August, Reuters reported that China sent bombers and fighter aircraft in the airspace close to the disputed islands of Spratly and Scarborough Shoal. Its Air Force had sent several H-6 bombers and Su-30 fighter jets on a "combat patrol", which China claimed was an effort to respond to security threats and to safeguard its maritime and sovereign interests in the region. However, the Air Force did not mention when the exercises took place, although such patrolling is reported to be "regular practice" by Beijing.
Early last week, China's Foreign Minister Wang Yi accused the US, Japan and Australia of "fanning the flames" of regional tensions after the countries released a joint statement pressing China against constructing military settlements or repossessing territory in the South China Sea.
Ever since the Permanent Arbitration Tribunal at The Hague ruled against Beijing, favouring the Philippines, China has repeatedly reasserted its historical claim to virtually the whole water body, its islands and reefs in the resource-rich waters.
Washington has also conducted freedom of navigation patrols close to what China claims is its territory, to Beijing's anger. Ahead of the ruling, three US Navy destroyers secretly sailed for nearly two weeks near China's territory, in an apparent show of force.