US Homeowner Inspired by Isis Beheadings Displays Obama Head as Halloween Decoration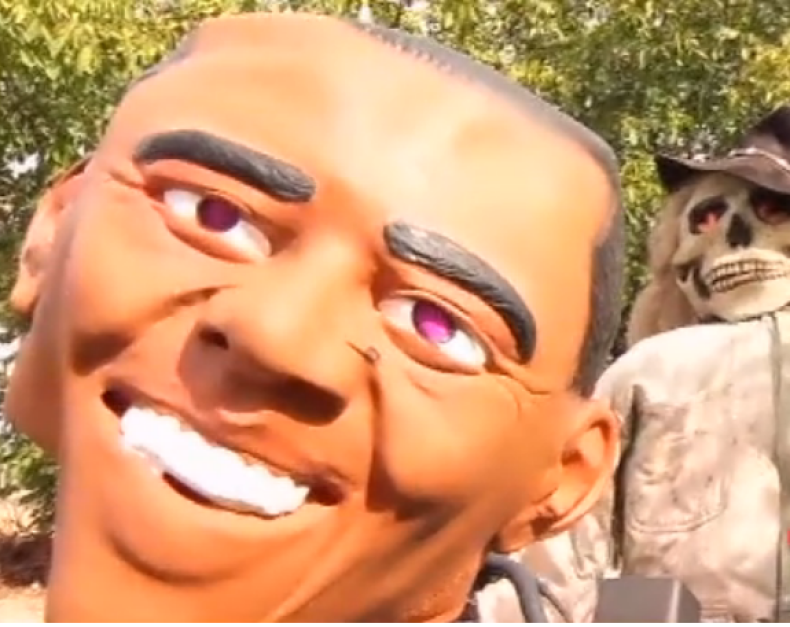 An Idaho homeowner, Richard Piersol, says he welcomes all criticism after planting a decapitated dummy head of US President Barack Obama as a Halloween display in his front yard.
"Obama's head is on the spear and he has been decapitated," said Piersol in a conversation with KBOI-TV.
Piersol says he usually likes to go all out on his Halloween decorations and this year he wanted to use the opportunity to reflect his political views.
"It's like free speech. I am pretty much saying I don't like his politics, and I don't like him. That's it," said Piersol.
Being in opposition of Obama and seeking inspiration from the Isis (Islamic State) beheading videos is what drove Piersol to select his display this year.
He clarifies, however, that the display does not make any statements about race or ethnicity.
"I've got a couple of African American friends of mine that have given me more ideas to put out there to make it look gorier. And it's like 'no, I don't want to do that. That might offend somebody,'" added Piersol.
Neighbours are so far not offended by Piersol's decorations.
Wally Lester, a nearby homeowner says, "My son asked me if it was a little bit prejudice towards certain individuals, say maybe the president because it has a head over there with a machete, I said no I don't think it's directed towards anybody. I think it just happens to be that situation the way they put it together."
The Canyon County Sheriff's office has said that the display does not break any laws.
Piersol says he is willing to bring down the display if a lot of people are opposed to it, but so far everyone seems to be taking it in good humour.
"I've had three police officers stop and take pictures and give me the thumbs up," said Piersol.
Obama's tombstone
Meanwhile, an Oklahoma homeowner, Dwayne Dockens, has offended his neighbours by planting an entire graveyard for Halloween in his front yard.
The graveyard includes a tombstone for President Barack Obama.
Dockens says he made the tombstone three years ago after Obama's birth certificate controversy emerged.
The tombstone has a question mark in place of Obama's birth date.