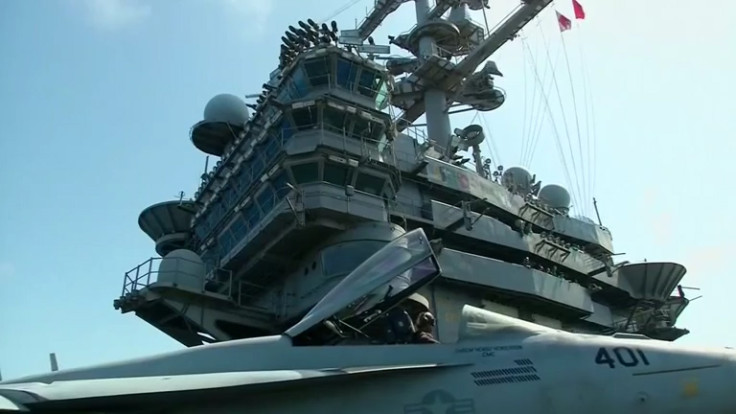 The US is seeking the extradition of two former executives of defence contractor Glen Defense Marine Asia at the centre of a bribery scandal involving the US Navy. The two Singaporeans — Neil Peterson and Linda Raja — have been accused of conspiring to defraud the US Navy.
Singapore's Attorney General's Chambers confirmed to AFP that it has received "extradition requests from the US government" for the former executives of GDMA. "AGC has acted on these requests and the matter is now fixed for committal hearing before the State Courts on Sept 21, 2016," a spokeswoman said.
The US Department of Justice in a statement on 15 September, said that Peterson, 38 and Raja, 43, were both charged with "one count of conspiracy to defraud the United States with respect to claims, one count of conspiracy to commit wire fraud, and multiple counts of making false claims."
They are alleged to have submitted more than $5m in false claims and invoices to the US Navy and allegedly "worked to perpetuate and cover up their fraud by consistently misrepresenting to the US Navy the cost of providing services to its ships in Asia." Peterson and Raja are accused of submitting "false price quotes from non-existent companies on letterhead created from graphics cut and pasted from the internet."
At the time, Peterson was the vice president for global operations and Raja, was the general manager for Singapore, Australia and the Pacific Isles at GDMA.
Both of them have been arrested by Singapore authorities at the request of the US government, the statement added.
Other GDMA officials charged
Other GDMA executives — Leonard Glenn Francis, the owner of GDMA, Alex Wisidagama and Ed Aruffo were also charged and have pleaded guilty. Wisidagama received a 63 months' jail sentence on 18 March and was also ordered to pay back restitution of $34.8m to the US Navy. Francis and Aruffo are awaiting sentencing.
In addition to GDMA officials, 11 current or former US Navy officials were charged with corruption and fraud. Eight of them have pleaded guilty and slapped with sentences ranging from 27 months to 78 months prison time. They were also all ordered to pay restitution to the US Navy. The remaining three were charged in May and their cases are pending, the statement added.
AFP reported that Francis admitted in January last year that his company had provided naval officers with cash, prostitutes, Cuban cigars and Kobe beef to ensure their ships docked at ports where GDMA operated.