Using Apple Pay in the UK: Simple and brilliant but limited
Apple Pay has launched in the UK, allowing iPhone and Apple Watch users to pay for items and services simply by tapping their devices on contactless payment terminals.
Apple believes your iPhone can replace your wallet or purse. It can already store all loyalty cards and boarding passes, and with Apple Pay, now it wants all your credit and debit card details.
So what is it like to use the system, where can you use Apple Pay, and is it really the future of payments?
What do I need to use Apple Pay?
First things first, you will need an iPhone. Currently only the iPhone 6 and iPhone 6 Plus are supported, though you can use the Apple Watch for payment even if it is connected to an iPhone 5, iPhone 5s or iPhone 5c.
The system uses the NFC chip in the iPhone 6/iPhone 6 Plus/Apple Watch in conjunction with the Touch ID fingerprint reader on the phone.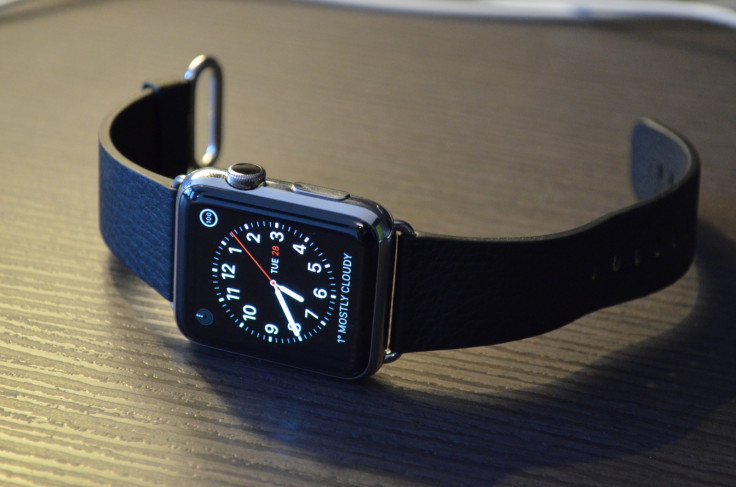 Using Apple Pay on an Apple Watch is brilliant
IBTimes UK
You can also use Apple Pay for easier in-app purchases in supported apps, and this method of payment can be used by the latest iPads (iPad Air 2 and iPad mini 3) which had a Touch ID sensor.
Next, you need a debit or credit card from one of these seven financial institutions: American Express, MBNA, Nationwide, NatWest, Royal Bank of Scotland, Santander or Ulster Bank, which are supporting Apple Pay at launch in the UK.
HSBC, First Direct and Barclays say support is coming soon, while Halifax, Lloyds and others are promising support later in 2015.
Setting up Apple Pay (or the "on-boarding process" as UX people like to call it), as is typical for most Apple services, is great.
Here are the steps you need to take:
Open the Wallet app (if you are using a version of iOS older than iOS 8.4 then use the Passbook app).
Tap on the option at the top which says add credit or debit card.
Hold the card in front of the camera and it will attempt to automatically read the card number and expiry date (you also have the option to add the details manually).
You will then be asked to confirm the card number and your name (Apple automatically adds your own name, but you can change this if the card is not in your name).
Fill in/confirm the expiry date and add the security number for your card.
Agree to the Terms and Conditions.
If your card has a security feature, you will then be asked to verify using email or phone number.
Enter the code sent via email/text message and you're done.
The whole process takes about two minutes and for the two cards I added (American Express and Royal Bank of Scotland), it worked flawlessly.
What about the Apple Watch?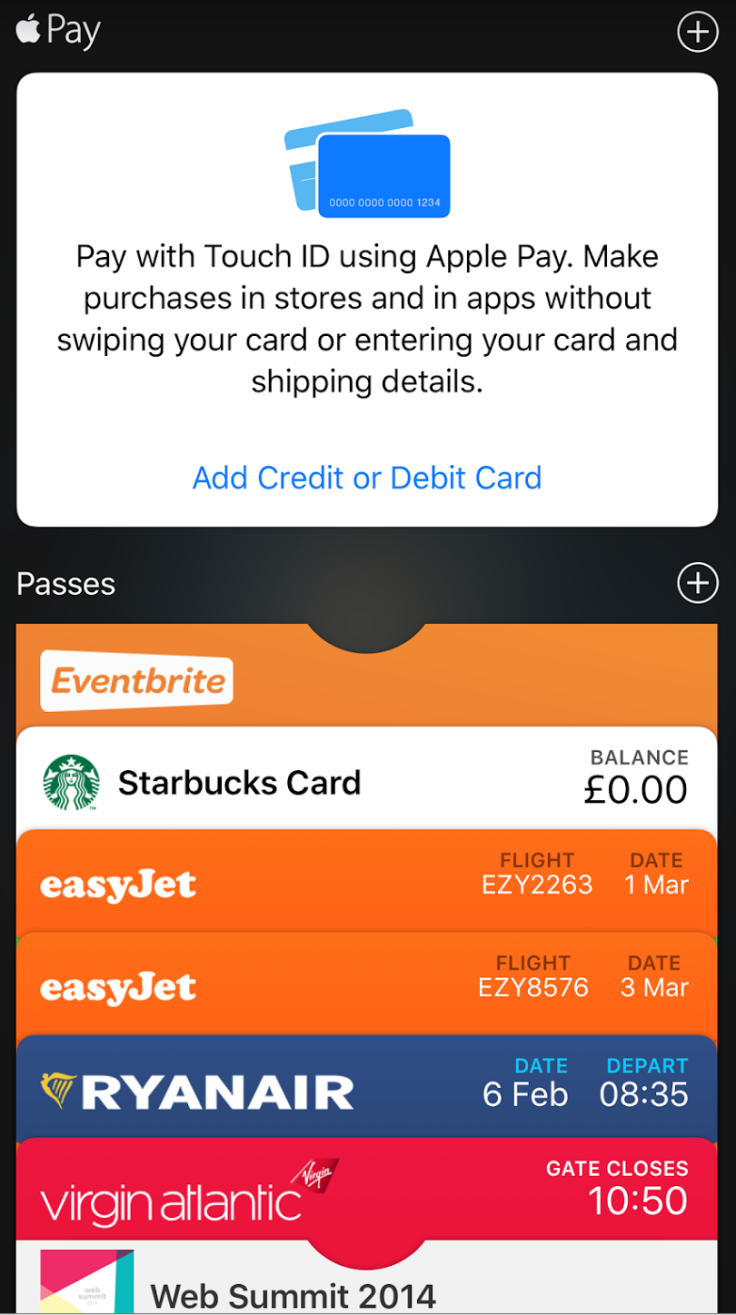 Adding a card through the Wallet app on iOS
IBTimes UK
At the end of the setup process, you will be prompted to add the card to your Apple Watch if one is connected to your phone. Tapping on the link brings you to the Wallet and Apple Pay section of the Apple Watch app and here you will be asked to once again verify the card, by sending a new, separate code to your phone or email.
You can change the default card on your Watch to be different from your iPhone, which is a handy addition as you may use your Watch in different situations from your iPhone.
Where can I use Apple Pay?
Apple says officially there are over 250,000 locations around the UK that support Apple Pay but in reality, you can actually use the system anywhere that supports contactless payments.
"Apple Pay can be used on any contactless terminal. As far as the consumer or merchant is concerned, this is just like any other contactless card transaction. For the merchant, if they have a contactless terminal, Apple Pay works. It's using all of the same infrastructure that's in place, understood and well used," Huw Davies from MasterCard told Digital Spy.
In-app purchases with Apple Pay
As we mentioned above, you can also use Apple Pay in iOS apps. The number of apps that support Apple Pay initially is limited but will likely increase quickly as the system becomes more widely used.
Everything from Airbnb and Hotel Tonight to private car hire company Addison Lee and flower delivery service Bloom & Wild already offer the service.
To get it up and running, you will need to enter the billing address of the card you want to use and then it is just a matter of using your fingerprint to verify purchases.
Stripe, the payment processing service, says all apps using its system will be able to simply flick a switch to enable Apple Pay from today (14 July), which means many more apps will likely come online very soon.
So how do you use Apple Pay in real life?
Let us start with shops. I tested out the system in Starbucks (using Apple Watch) and Waitrose (using an iPhone 6 Plus).
In Starbucks, when I held up my Watch, the server thought I wanted to scan my loyalty card (something you can also do with Apple Watch) but once I explain that I was making a payment, the system worked perfectly first time.
You simply double tap the side button on the phone, which brings up your default card (you can flick between all your cards if you want to change) and tapping it against the payment terminal instantly saw the payment got through.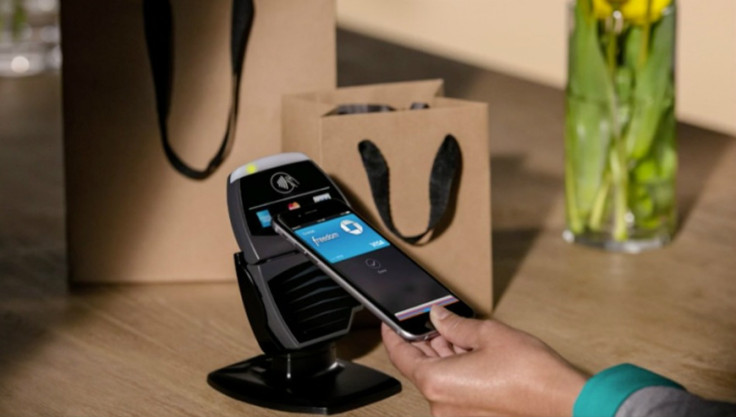 In Waitrose, I purchased my lunch using my iPhone. Once I had scanned through all the items, I tapped on the pay with debit and credit card option.
I held my locked iPhone next to the contactless terminal and my iPhone instantly brought up the Apple Pay screen and asked me to verify the payment with my fingerprint. Again, the system was seamless, although it did take me two goes to get it to read my fingerprint.
Using Apple Pay on the Tube
One of the big selling points of Apple for residents of London (according to Apple, of course) will be using Apple Pay on the Transport for London network of Tubes, buses, DLR and overground.
The system works in exactly the same way as it does in-store.
As you approach the card reader/barrier, your iPhone will automatically recognise it is near the terminal and present the Apple Pay screen for you to verify by holding your fingerprint on the sensor.
On Apple Watch, you double tap the side button and hold it next to the reader to pay – a much simpler method.
Of the two methods, the Apple Watch is obviously much quicker and means you do not have to take anything out of your pocket. Using the iPhone is far from clunky but is slower than simply swiping your contactless bank card or Oyster card.
I expect to see a lot of people in the next couple of weeks clogging up the barriers at Tube stations as they attempt to use Apple Pay on their iPhones – annoying customers behind them – before going back to using their Oyster.
Just like using your contactless card, using Apple Pay will automatically limit the amount your are charged on a weekly basis depending on what zones you travel in.
How much can I spend on Apple Pay?
For now there is a £20 limit on purchases initially, which will rise to £30 in September, but retailers can get around that limit completely by upgrading their own systems to allow customers make much larger purchases with Apple Pay.
So is Apple Pay any good?
Apple Pay is brilliant. It is easy to setup and works just as you would expect.
The problem is that while I was able to use it, I was using cards from two of my colleagues as my bank (Halifax) will not support the system until later in 2015.
I was also using an iPhone 6 Plus, which was on loan from Three UK, and my Apple Watch is a review unit from Apple itself. So if I was not a tech journalist, I would have none of the things needed for using Apple Pay.
Without an Apple Watch, Apple Pay is just OK, but with it, it is brilliant. Not having to take your wallet (or phone) out of your pocket truly feels revolutionary and this is the first use for Apple's wearable that makes me think owning one could be worthwhile.
Apple Pay has been in use in the US since October 2014 and has proven hugely popular. That, however, is in a country where you still use your signature to validate card payments.
In the UK, chip-and-PIN, contactless payments and mobile banking are much more prevalent and I do not know if Apple Pay offers enough of a benefit for those without an Apple Watch (and let's face it, that is the vast majority of people) for people to switch over.
I have no doubt systems such as Apple Pay are the future and our smartphones will eventually replace our wallets, but it is going to take some time.
© Copyright IBTimes 2023. All rights reserved.