In a bizarre incident in a rural part of India, a woman reportedly has been accused of killing her husband by sucking his blood. She allegedly claimed that she is a "witch" and drank her husband's blood to ward off evil spirits.
According to local news reports, the "vampire" woman's in-laws have said that she has been drinking her husband's blood for nights. Neighbours also said that they had spotted the woman roaming around the village at odd hours in the night and uttering mysterious words.
Police in Sairaipur village in Birbhum district, West Bengal have reportedly arrested the woman, Sabitri, following a complaint filed by her in-laws. The victim was identified as Abhijit Bagdi. The couple were married for several years, police officials told local news channels.
The accused woman's mother-in-law said in the complaint that Sabitri began the occult ritual of drinking Bagdi's blood on a new moon night. She made Bagdi lie beside a "trishula" (a three-headed spear linked to Hindu God Shiva) and bit his lips.
She would sit on his chest every night since that day and suck blood from his mouth, the complainant reportedly told police.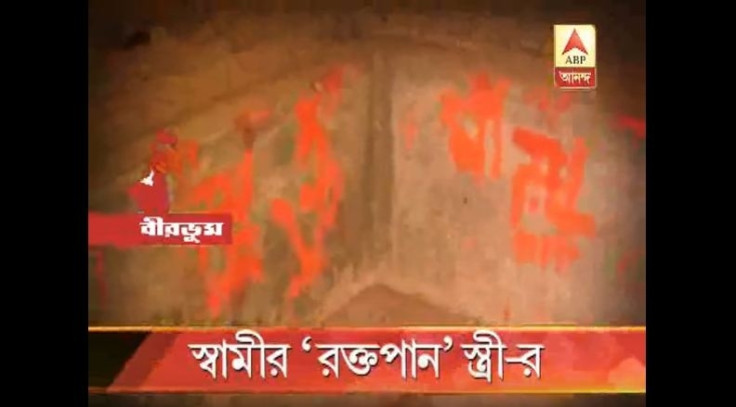 On 6 August, Abhijit became seriously ill and had to be hospitalised, where he was given a blood transfusion. His condition, however, did not improve and he died the same night because of anaemia.
Video footage recorded by ABP Ananda news channel shows the couple's house with weird symbols painted in red throughout. The mother-in-law has accused Sabitri of witchcraft.
However, Sabitri's family who faced the villagers' ire after the incident, claimed innocence. They argued that the cause of Bagdi's death was some other domestic matter and their daughter is being falsely framed. The villagers had reportedly locked up Sabitri's family after her alleged witchcraft story became known in the village.