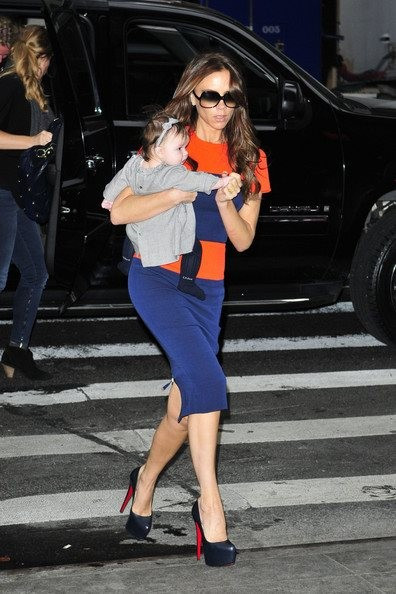 As Harper Seven celebrated her first birthday on 10 July, the child has been named the Most Stylish Child of Britain.
Wearing high-street chain outifts from Gucci and Galliano, Harper Seven has been the centre of media attention right from her birth.
In an online poll conducted by online baby store My1stYears.com, Harper got 27 percent of the votes, beating Amanda ­Holden's six-month-old daughter Hollie who got 26 percent of the votes. Beyonce's and Jay Z's Ivy Blue came third.
"All the toddlers in our shortlist have extremely fashionable parents so the fact that they made it on to the list was no surprise. We expected to see Harper Seven at the top spot as she is ­regarded as one of the most fashionable babies in the world," a spokesman told the Mirror.
Baby Harper has a closet full of designer clothes, according to a report in the Daily Mail. Her father, David Beckham, himself consider it as absolutely "ridiculous". But that does not stop her fashion designer mother, Victoria Beckham, from getting her chic and cute baby outfits.
Eva Longoria has been named the Godmother of Harper Seven, according to Glamour magazine.
"Victoria asked me to be Harper's godmother and of course I said yes. I'm absolutely thrilled, Harper is simply adorable," Eva told the Daily Mirror.
Sir Elton John and David Furnish are the godfathers of the other Beckham children, Brooklyn and Romeo.
It was a surprise that Amanda Holden's baby came second in the list as she hardly got any press coverage.
It is interesting to see that Holly Rose, who has comparatively little exposure in the press, came second.
"Amanda Holden is widely regarded as one of the most stylish celebs on TV and it seems that a little bit of her fashion sense has rubbed off on her little one. She also comes across as a very likeable mum - other parents certainly warm to her," the spokesperson said.
There is a scarcity of boys in the list. In the top five, only Kardashian junior was spotted.
Check out the list of top ten stylish celebrity children:
Harper Seven Beckham
Holly Rose
Blue Ivy
Aoife Belle
Mason Dash Disick
Suri Cruise
Astala Geldof
Ava Klass
Ethan Minogue
Kai Rooney