Video game preview 2016: Part 2 – Final Fantasy 15, Yooka Laylee, Cuphead and more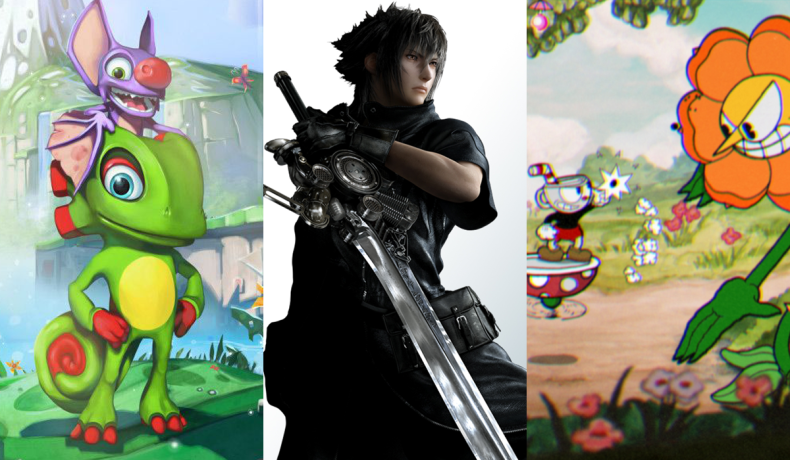 This year has provided us with many quality games, but 2016 looks set to top it. As we edge closer to New Year we've assembled a list of all the major games to look forward to over the next 12 months - and it's a big ol' list.
Our naïve list of 20 turned into a list of 30 and eventually into a list of 50. Most came easily to mind, which just goes to show what a great year we have ahead, in prospect at least. We've split these games over five articles and this week (7-11 December); we're going to publish a new one every day, culminating in our ten most anticipated games on Friday.
Here, in no particular order, is our second selection of games.
Read the rest of our 2016 previews here
Final Fantasy 15 (PS4, Xbox One)

Even after all these years, a new Final Fantasy is always a big deal and 15 being the first made specifically for current hardware makes it a bigger deal than usual. Trying to explain the plot would take more room than I have on this list, but there will be mad hair styles, enormous monsters and, we'll hazard a guess here, a whole lot of melodrama.
Release date: TBA
Cuphead (Xbox One)

A strong art style will get you far, and there's no better testament to that than Cuphead, Studio MDHR's frantic platformer. Its gorgeous style, based on the borderline (some would argue not-so-borderline) nightmarish cartoon style of the 1930s, this game is a 2D shooter centred on boss battles conducted across multiple platforms. It's tough as nails too, but at least a friend can help you out in co-op.
Release date: TBA
Gran Turismo Sport (PS4)

Sure, its defining feature right now is that it's not Gran Turismo 7, but after DriveClub failed to make an impact, racing fans on PS4 will be happy to see the classic franchise back in any capacity. Little is known as it was only recently announced, but GT Sport will include a campaign, an arcade mode, and a "sports mode". Players will also be able to participate in a virtual championship recognised by the FIA – motorsports' governing body.
Release date: TBA

Deus Ex: Mankind Divided
In 2011 Edios Montreal successfully did what Deus Ex: Invisible War could not and delivered a worthy sequel to 2000's classic original. Set before the events of those games this prequel starred Adam Jensen in a world of human augmentation and intrigue. Mankind Divided continues the same themes and offers the same freedom of approach when it comes to gameplay.
Release date: 23 August
Ratchet and Clank (PS4)

This latest Ratchet and Clank breaks all long-held beliefs about video games. It's a soft reboot/refresh of the series that looks to be exactly what the franchise needs and it ties into what looks like a fairly decent movie based on a video game. Even if the film eventually disappoints, this game is shaping up to be brilliant.
Release date: 12 April
Rise of the Tomb Raider (PS4, PC)

Microsoft's one year exclusivity deal for the follow-up to 2013's Tomb Raider reboot was a good bit of business. A fact proven by the excitement that will meet the release of the game on PC and PS4 in 2016. The PC version is set for early 2016, the PS4 version for late 2016 – the Xbox One version is already pretty great.
Release date: Spring on PC, Q4 on PS4
The Banner Saga 2 (PC, PS4, Xbox One)

The Banner Saga was a gorgeous strategy game boasting a nice story, good characters and an oppressive tone that pits the protagonists against a seemingly unstoppable force. There's desolation and despair, but just enough hope to keep you hooked on where the story heads next. Its sequel has much to live up to. You can watch the game's intro here.
Release date: TBA
Yooka Laylee (PS4, Xbox One, PC, Wii U)

A spiritual successor to cult favourite Banjo Kazooie from the very team that made it and other games from the glory days of developer Rare was never going to struggle to amass crowd-funding, and so it did. We know it'll have strong colourful design, let's just hope it has the platforming gameplay to match.
Release date: October
Fire Emblem Fates (3DS)

Following the highly-regarded Fire Emblem Awakening, Fates hopes to continue the tactical JRPG's success with another outing which has already done well in Japan and awaits its release in Western territories. The story sees the player deciding who to fight for in a war between their birthplace and adopted home.
Release date: TBA
Home Free (PS4, PC)

A prospective Kickstarter success story, Home Free is an intriguing role playing game where your role is as a stray dog exploring a procedurally generated city, seeking food, shelter and engaging in or avoiding fights with other strays. A great concept that appeals for obvious reasons, and hopefully an indie gem. Watch the trailer here.
Release date: TBA
For all the latest video game news follow us on Twitter @IBTGamesUK.