A plane full of passengers looked on in tears as a widow received her Army veteran husband's coffin on an airport tarmac.
Father-of-four Green Beret Shawn Thomas, 35, from Oklahoma died earlier this month after a vehicle accident while serving in Niger, Africa.
The fallen officer's flag-draped coffin was brought back to Raleigh-Durham International Airport to be received by his grieving widow Tara.
The heartbreaking moment was captured on video by one of the passengers, and has been viewed by over 7 million people.
The footage shows soldiers carrying Thomas' coffin off the airplane. Wearing black, Tara walks forward, and placing her hands on the American flag, lowers her forehead to the coffin as other family members gather around her.
Lisa West Williams, who shared the emotional video on Facebook wrote."It was an honor to fly home with this PATRIOT! God bless his wife and family. There was not a dry eye around me."
Williams told WNCT that Thomas's widow had asked her to post the clip on social media so viewers might understand the sacrifices made by military families.
"She wanted people to realize that this goes on every day. There are many men and women that come home in a casket and they've made the ultimate sacrifice for us."
The clip has gone viral and prompted a stream of comments from members of the public expressing their gratitude to the officer for his service to his country and offering messages of condolence to his bereaved family.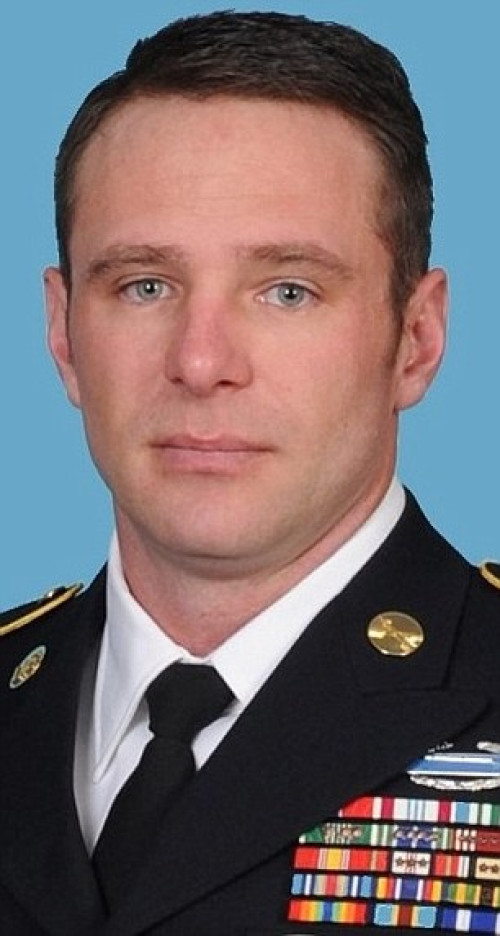 Thomas was based in Fort Bragg, North Carolina, He had two Bronze Stars and four Good Conduct Medals, as well as other decorations for the time he served abroad, according to the Army Times.
The warrant officer had become a member of the armed forces in 2000 and served seven times in Iraq and Afghanistan. Thomas was part of a contingent of soldiers deployed to central Africa to train local troops and support their efforts to counter the spread of terrorist groups such as Boko Haram.
He was posthumously awarded a Meritorious Service Medal and Army Commendation Medal in recognition of his service in Niger.
An obituary for Thomas states that 'under his big beard, tattoos and giant muscles there was a small town Oklahoma boy that was grounded by his faith, strong values, and family'.
The fallen warrant officer will be buried at Arlington National Cemetery Mail Online reports.
He is survived by his wife, their four children, his parents, and his brother and half-sister.